While this isn't one that got away from a Channel Islands Sportfishing boat, this story comes from one of our anglers! Jeff sent in this story and got himself some cool stuff!
"Maui 95′ family reunion charter boat called the lucky strike. We were fishing 15 foot seas and suddenly got into a school of yellow fin. I was in the chair for an 1 hour and 45 min. Finally got it in and I was exhausted. I was 17 at the time. The main reason I wanted to go out was to get a marlin. We trolled for another 10 minutes and hooked up a huge blue marlin. So the family threw me in the chair again my arms were already jello. The captain was going in reverse as fast as he could to take some pressure off of me but the waves kept crashing over the back of the boat so he had to slow down. An hour passes and they asked if I wanted to switch out but I said no. Another half an hour passes and I am dead he's only about 50-60 feet out now I lean back and pop its gone. What sucks is I didn't even care at that point because I was dead but an hour after trolling for nothing else I started to get pissed. Good thing is when we got back to the marina and weighed the yellow fin I had the state record for that year. It ended up getting beat a couple days later but it was cool. My uncle went back a couple years ago and chartered the same boat and was telling the captain the story and before he finished the captain says hold on pulls out a photo album and says this kid right here and it was me. Sort of cool I made that big of an impression that this many years later the captain would remember."
Jeff Beard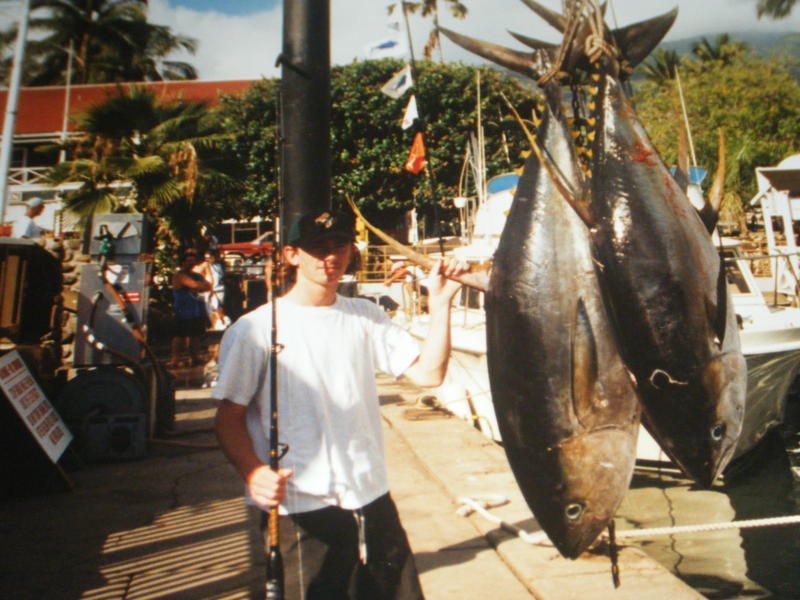 Email us your story! If you're chosen, you'll get some cool stuff!