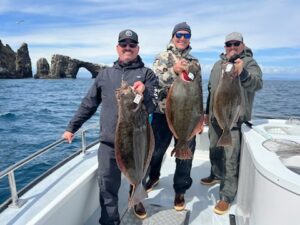 The season's first month is already behind us and things are heating up around the Channel Islands and the White Seabass, Halibut and Rockfishing are a go! The overnight boats are seeing good starting counts of white seabass to add to their amazing rockfish limits.
The Ranger 85 concluded its whale-watching season April 30, 2023 and started fishing the first week in May and had a good showing of lingcod on their first trip. 
The day trip fishing has also continued to produce white seabass and halibut as well as really nice rockfishing for those who came prepared with fluorocarbon and either the white flukes or fresh dead bait.
Listening to how your crew rigs up and sets drags is very important so that you can be ready at any moment for the first drop.
If you need to freshen up the tackle box, the office should be able to get you hooked up with the latest captain recommendations! 
Visit www.CISCOS.com to see current fish counts or to book your spot!