August was a great month at Channel Islands Sportfishing. The white seabass and halibut bite continued through the middle part of the month before it finally tailed off. Rockfishing is always there to fill the void, but several of our boats chose to focus on the tremendous inshore fishing opportunities instead of going deep for rockfish. Inshore fishing has been "off the hook" highlighted by limit style fishing on calico bass and a yellowtail bite that is really building up into something special.
I've kind of had my fill with offshore fishing and have been looking for opportunities to get back inshore. Summertime inshore fishing is always fun, but I've never really had a chance to do it at the northern islands. I've been seeing all the photos in my Facebook feed (be sure to follow us on Facebook!), and been dying to get in on this great action.
I finally got my opportunity this week fishing with Capt. John Fuqua of Sea Jay Sportfishing…
About Capt. John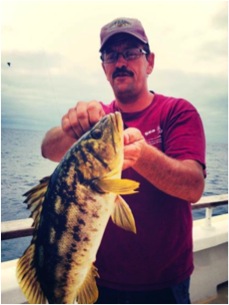 (Capt. John with his favorite saltwater fish, calico bass)
Capt. John Fuqua is the owner/operator of the Sea Jay. It is one of the smaller boats here at CISCO's, carrying a max load of only 11 anglers. John has been running the boat for 10 years now, but he has spent his whole adult life on the water. John worked as a deckhand down south on several boats out of LA Harbor, 22nd Street, and H&M Landings. He ran the Catalina Special here for 6 years before purchasing his own boat, the Sea Jay. In addition to working on his boat, John is also a competitive freshwater bass angler on the FLW circuit.
John has been competing on the FLW circuit since 2007. He mostly fishes at events in California, Nevada, and Arizona, but has fished in events as far away as Alabama!
I asked Capt. John what he likes about competitive bass fishing…"I'm a competitive guy. Here on the Sea Jay, I compete every day with my dear friend, Capt. Steve Kelly of the Island Tak. We fish in the same areas and talk on the radio all day. When I have a bad day here though, 11 other people do too. With the freshwater bass fishing, it's just me vs. the fish."
I love fishing with captains that love to fish too. For some captains, driving the boat is just a job. Clearly, John has a passion for fishing. When I had the opportunity this week to fish with him, I jumped at it!
About Our Day
John kicks it off early with a 4am departure. It's nice though because there are bunks on the boat and you can grab some shuteye on the way in/out. After a quick stop at the bait receiver we headed out of the harbor and I grabbed a quick nap. I woke up when I felt the boat slow down and we were on the north side of Anacapa. John was circling around trying to find some squid on the meter. I rigged up a snagger and prepared to help make our bait. The squid cooperated and we made a quick go of it and moved on.
We stopped just off the south end of Santa Cruz Island. We anchored up about 50 yards away and proceeded to fish. I was the first to hook up with a nice calico using a live squid pinned to a 2/0 Aki twist hook on 25lb. fluoro with a ¼ oz sliding sinker.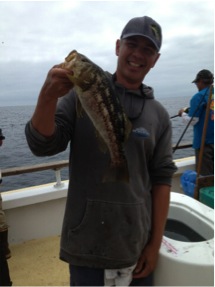 Shortly after, my new friend Garrett scored the first yellowtail of the day. Then he did it again! Nice job Garrett! We ended getting 2 more before the conditions went south and the bite died.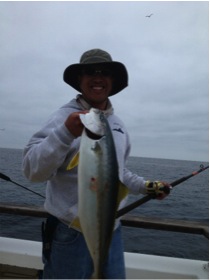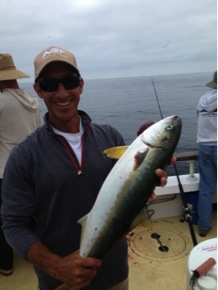 We made a move around to the backside of the island. Capt. John said we were above a submerged kelp bed in about 70 feet of water. The action was immediate and big calico bass were hungry to take our baits. It was easy to get bit. It was harder to get them into the boat as they would find a way to get your line wrapped around the kelp. Capt. John showed me a neat trick to get them out. Usually I go in free spool when this happens. John told me to give them just a little line by dropping the rod tip. As soon as you felt them moving, put the pressure back on. It worked like a snap!
It didn't take too long before we were limited out (5 bass per angler). Time was running out on the day and we made our way back to the original spot. We didn't have long to fish it, but made good use of our time by adding 2 more yellowtail to our count.
What a fun day! Limits of calico bass for all 7 anglers on the boat, plus 6 yellowtail. I really enjoyed the day. Capt. John is very knowledgeable and friendly, and it was great to meet and fish with the other anglers on the boat. The Sea Jay has over 200 chartered trips per year. I can see why as it is a very good experience. In between the charters though, they do post open party trips (like this one). If you get the opportunity, I would encourage you to take advantage and buy a ticket. If you can't get on the Sea Jay, please call Channel Islands Sportfishing at 805-382-1612 or check out the schedule and book your trip online! We have several more fine captains fishing similar trips for you to enjoy a great day on the water in the beautiful Channel Islands.