Hoop Netting Channel Islands Harbor from a Kayak.
I have hoop netted before from a pier jetty and boat, so I had some experience with hoop netting in general, however this was my first time from a Kayak. Since I missed the opening weekend of Lobster season due to travel, I was anxious to get out on the water and get some bugs.

Channel Islands Harbor is a fun and easy location for both hoop netting and fishing from a Kayak.  I usually launch from either the boat ramp or kiddie beach, since they are pretty close to the break wall where we fish.  I had to stop into Channel Islands Sportfishing to get my Lobster Report Card a $10 addition to a fishing license. I usually get bait from Channel Islands Sportfishing, but since I had some Lingcod carcasses  and some sand dabs, I decided to use those for bait.  

The plan was to meet in the water with some of my fellow Kayak Anglers, Junior Besara and Jason Balades.  They launched earlier than I did so I would meet them at the break wall.  I launched a little after 6pm and paddled into the sunset.  By the time I made it to the break wall Junior and Jason had already dropped their hoop nets.  Junior was using multiple hoops while myself and Jason decided on dropping one each.  I hurried to get my hoop bait net loaded with sand dabs.  Since the seals have been known for stealing bait.  I used carabiners to clip the bait net into the the hoop, hoping to avoid loss to the seals.  I dropped about 10 feet from the wall between kelp.    The tide was high and the swell was large, at times breaking over the break wall and forming waves on the inside of the break wall.  This made it exciting and challenging at the same time.

My first pull was about 8 minutes after I had dropped.  I didn't get any lobsters however I had 4 large sized Rock Crab.  I decided to keep 2 of the largest ones.  Junior and Jason pulled their hoops.  Jason had a small lobster and some kelp crabs, so he let them go.  Junior got a legal Lobster on his first set of pulls.  We reloaded the hoops with bait and dropped again.  My second pull was success.  I had a nice size lobster and a few Rock Crab.  The lobsters seemed to like the Lingcod Carcasses because both my hoop and Juniors hoop which used the carcasses both pulled Lobster.  Junior was fortunate because his hoop yielded two legal lobster in one pull.  Jason got a nice one after his third pull so we all had at least one Lobster each.  After about 3-4 pulls each we were able to collect 6 legal lobsters, and over a dozen legal Rock Crab (but we only kept the massive ones which accounted for 8).  

We paddled back into the harbor and called it a night.  We had a great time, and took some food home to our families, so all in all it was a good night.
Things you will need:
1.  Hoop net and bait cages or bait nets, buoy and rope.
2. Carabiners
3.  Measuring device.
4.  Fishing license with Lobster Report Card.
5.  Head Lamp, and kayak light.
6. Bait and knife to puncture and cut bait.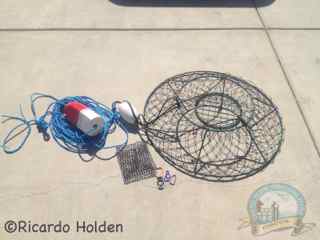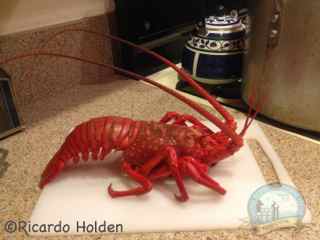 See you on the water!