Welcome anglers,
As April comes to a close, we look back on the month our anglers had offshore and it was a fantastic one at that.
Summer like conditions persisted making for some incredible days on the water.
Limit style catches of rockfish dominated the counts for our customers on trips ranging anywhere from ½ day to our multi day adventures.
This time of year, giant lingcod and ferocious sheephead typically challenge the angler and ultimately tip the scales winning jackpot honors. Towards the end of the month, springtime Barracuda have made their appearance indicating we are in for a great spring.
April continued to be a great month for Whale Watching. Typically, this marks a slowdown of these coastal leviathans, but as the month progressed on, so did both the numbers of as well as the diversification of their species increase.
We caught up with one of our longtime captains, Frank Ursitti, to get his thoughts on the season. Frank owns two of the boats in our fleet, the Ranger 85 and the Coral Sea. The Ranger 85 is the primary whale watching boat here at CISCO's.
Capt. Frank told us, "2014 has been one for the record books these past few months whale watching offshore. I cannot recall any time in the past 35 years where we have seen such diversity of wildlife offshore, and all within a few miles. I can recall trips this season where we encountered Orcas, Grays and Humpbacks all on the same trip. Very few place exist globally where one can venture offshore for just a few hours and observe several species of whales, dolphin and other wildlife. The Channel Islands have truly come into their own, and have become a global destination to observe wildlife".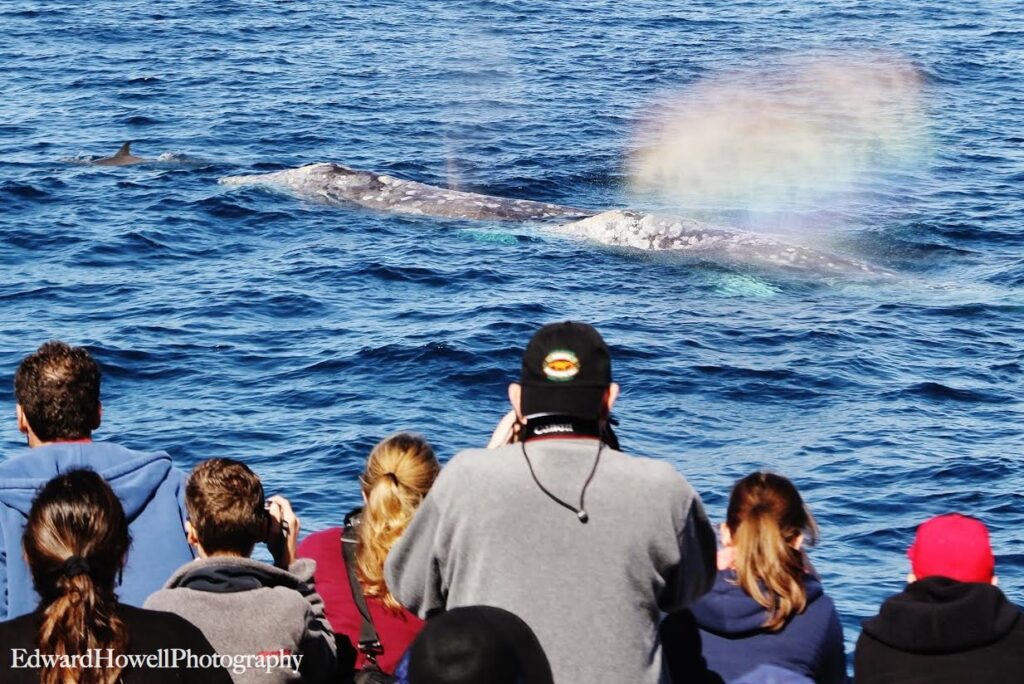 Capt. Frank furthered "as April progressed, we begin to turn our sights offshore, and on a recent 2 day trip fishing our favorite stomping grounds, Patrick Cary of Diamond Bar managed a 33lb Lingcod, our best for the season, and Patrick's personal best. Congrats go out to him…what a catch!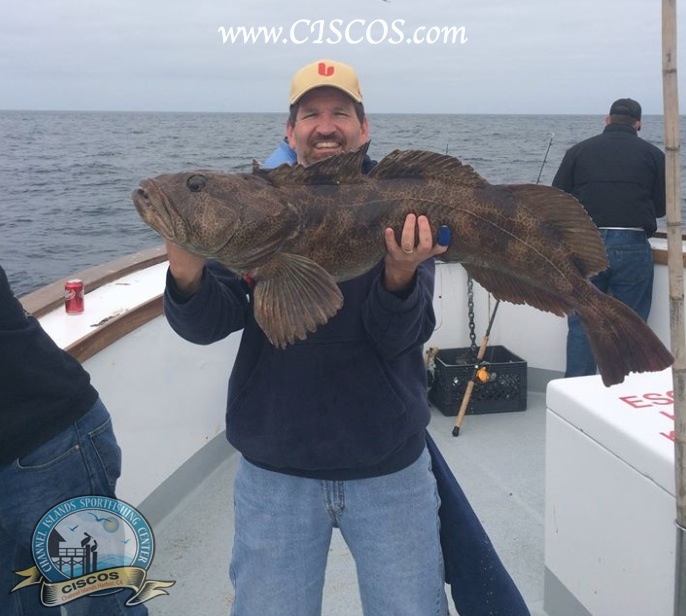 What can we expect in May?
May looks promising here at CISCO's as we all look towards fishing the islands and coast in search of the gray ghost.
If you recall, and everyone does, the past few years our fleet has dominated seabass counts and this spring looks choice as well. "With a few fish starting to show in the counts here and there, its just a matter of time before they filter in schools and take up residence around the islands. We are starting to a little bit of squid around, and I believe on the next moon things will start to perk up".
Capt. Frank said they have a lot of 2 day trips coming up on both the Ranger 85 and the Coral Sea. I asked him what kind of trip an angler could expect on a 2 day trip on one of his boats this time of year.
"Depending on what's happening with the gamefish, i.e. Seabass or Halibut, we will of course place a focus on those. That means legendary destinations like Santa Rosa, San Nicolas and Santa Barbara Islands. Beyond that, we could easily place San Miguel on the itinerary."
"Our 2 day trips have become very popular as this gives the angler the edge fishing from sunup to sundown on the first day. This means we are up on the seabass before daylight and again late in the day when the rest of the fleet has gone home. We'll anchor up in a comfortable cove for the evening and again back on the fish for sunup. Beyond that, the multi-day trip affords the angler the best opportunity to home with a full bag limit for their effort. It's a great way to spend a couple days on the water in an uncrowded, unrushed angling environment."
Final thoughts Frank, a lot of people are talking about an El Nino year this year. If that happens, what can anglers expect up here in the Channel Islands?
"If all indicators hold true, strap yourself in, cause its gonna be one heck of a wild ride. I recall the El Ninos in the early 80's being a young operator on the ¾ day boats catching Dorado and Yellows at Anacapa. We may easily see a repeat event, and that means gamefish here in the north that typically favor warmer southern waters. It may also signal an extended season as warm water lingers stretching deep into November and possibly December. We're looking forward to fishing it."
So are we. Come visit and fish with us. You can book fishing trips on the Ranger 85, the Coral Sea or any of our other great boats and captains here at Channel Islands Sportfishing here.