Lingcod Special on the Aloha Spirit
Fall is here, the days are getting shorter, Santa Ana winds sweep though, and the Aloha Spirit runs their Lingcod Specials out of Channel Islands Sportfishing. This was my first time on the Lingcod Special, and being that I love to catch and eat these beasts, I was very excited to take on this adventure. We left the Harbor around 5am in the dark heading out toward the North West End of Santa Cruz Island. We arrived shortly after sunrise and started dropping our lines. The bite was on. Captain Cory found the spot. We were thick into Lingcod almost immediately. On almost every drop, anglers were reeling in a lingcod and or a some large Chuckleheads and Vermilion Rockfish. A few short Lingcod were released but the majority of our catch were in the 22″ – 30″ size, keepers. With fish coming on board one right after another, both Patrick and Gil stayed busy gaffing, unhooking and bagging fish. We couldn't ask for better weather. The water was glassy, the sun was out, and a slight breeze came through every so often just enough to keep the heat down.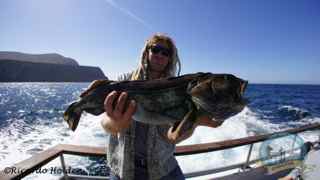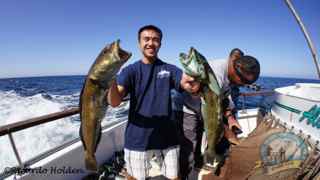 By 12pm we had already limited out on Lingcod, so we headed into shallower water to fish for Whitefish and shallow water Rockfish. A few large Cabezon and some White fish started hitting the decks, and we were still hooking Lingcod. We must have released an additional 20 legal Lingcod due to our limit already being made. Everyone on the boat was having a blast, and we managed to keep tangles to a minimum which is always nice. We limited on Rockfish and headed back to the landing early.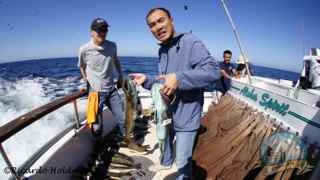 I had a great time, got to meet some new people, share some stories, and fish with some existing buddies. The crew did an outstanding job, and I brought plenty of nice fillets home to share with my family. I really couldn't have asked for a better day.
The Aloha Spirit is running the Lingcod Specials throughout fall on Monday, so if you can take advantage of these trips I highly recommend getting on the water with these guys and hooking into some Beasts! Check availability here.
Ricardo Holden – FishEye Channel