Editor's Note: My name is Carlo Godoy and I am videographer, photographer & writer for The Final Code, an internet marketing company based out of Ventura, California.
The white seabass fishing has been amazing at Channel Islands Sportfishing Center aka CISCOS, they have been bringing in some monsters so they asked me to bring my cameras out on one of their fishing charter trips. It was an early Thursday morning departure, frankly I was a little nervous I would sleep through the departure time of 5am, but luckily I made it. I rode the Aloha Spirit Sportfishing Boat with Captain Shawn Steward, what an awesome boat he keeps it very clean and the crew is really nice. This was my 1st real fishing trip experience; I had fished from the beach as a youngster but not from a fishing boat. There were 19 anglers onboard some who were very experienced and some who were novices. We were targeting white seabass, so Captain Steward headed south along the California coast to his favorite spot to fish for seabass.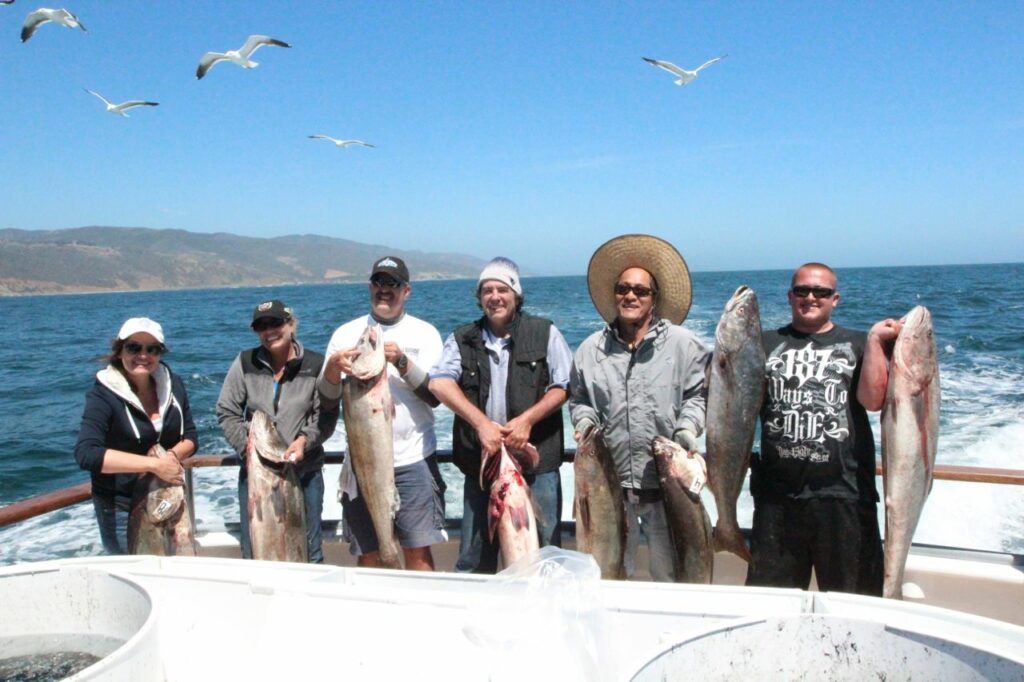 Our first location we stopped and waited and but got nothing I told Shawn "don't worry the fish will come they want to be on camera." So we moved about 2000 yards south and boy was that a good move. Not long after Captain Shawn told the anglers to drop them we heard one guy yell got one. The crew sprung into action and yelled hot deck they were amazing to watch, coach the angler and helping him keep his line free from entanglement from the other anglers. After about a 10-minute struggle Corey the deckhand screams we got color and he gaffes the fish and pulls the 30+ pound white seabass on board. Everyone was excited to see the size of that fish and the hope that they will soon catch one. Everyone was in awe at the size of this fish but that awe would not last long as by the end of the day that would be the smallest one that was caught.
On board were these two southern belles from Georgia they decided they wanted to take a fishing trip while vacationing. They were not experienced anglers but just wanted to enjoy the ride and the Pacific Ocean. They rented rods form CISCOS's tackle shop for $12.00 and bought a couple of torpedo sinkers. That was a great investment as these two would haul in a total of 3 white seabass one of which was 55+ pounds and would win the Aloha Spirit jackpot for the largest fish caught for the day. The girls were more than trilled with their catches and would be bragging that it did not matter how expensive the equipment was but that there was a little luck involved.
The fishing was non-stop action, the Aloha Spirit caught a total of 10 white seabass, 13 Calico Bass, 1 Barracuda, 3 Sheephead, and 16 Rockfish. I had a great time talking with many on board and the sentiment was the same form everyone, that this day was a day to remember because most of the time you are lucky just to catch one white seabass.
I would like to thank Captain Shawn Steward, Deckhand Corey and Galley Cook "Dad" for an awesome experience. This is one day I will not forget. I am working on editing the videos that I shot and photos I took and will have them for your enjoyment soon. Go like us on facebook www.facebook.com/CISportfishing to see them as they are released.
To fish with Captain Shawn Steward on the "Aloha Spirit," based at Channel Islands Sportsfishing, visit www.ciscos.com or call 805-382-1612. I must admit that I had one of those great days with super nice people I look forward to my next great fishing trip. I hope to see these guys again soon.