2011
It wasn't long ago a barely legal (22") halibut was a rare and welcome score. Up until the early 90's the Channel Islands were inundated with commercial net boats stretching sets from Pedro Point to Prisoners. So much so that on any given day there would be miles of nets blocking off Chinese Harbor leaving sport boats with very little space to work. After a lot of hard work from local boaters, anglers and conservationist the gill netting was shut down in 1993. Here we are now in 2011 and boy is it a different story.
In May of this year we noticed an encouraging jump in flat fish counts as well as size. While we would typically see most fish under 20lbs we noticed most fish coming to color in the 20-30lb ranges. As the water warmed up so did the fishing, tons of bait in the water and seasoned skippers also contribute greatly to this. Then came June and July, 2 months I will always remember.
It all started in June when a man from Nevada pulled in a monster 53lb halibut fishing with a rental rod off the deck of the Frank Ursetti's Ranger 85, a true barn door. Capt Paul Munowitch of the Pacific Islander had his hand in the epic halibut counts as well. In July The Pacific Islander had multiple fish weighing on over 40lbs with 59.6lbs being the biggest. Matthew Boeck of Santa Barbra was the lucky angler to beat this fish and beat the previous record held since 1999.
Now lets talk the big story, and I do mean big. Thursday June 30th was the first day of the most epic halibut fishing I have witnessed. Joe (Joey The Drill) Sullivan of Oxnard fishing from the overnight fishing boat "Mirage" landed himself a catch of a lifetime, his halibut weighed in at 57.5 lbs on our freshly certified scale. Being just short of the 30lb class record this was a very exciting moment. After many photo's and an IGFA application we thought this was the biggen of the season, boy were we wrong. The Mirage was about to make history, not once but twice.
When Francisco Rivera of Seaboard Marine in Oxnard boarded the Mirage Thursday night skippered by Capt Joe Villareal on a company trip with his boss Tony Athens he could only dream of what he was about to accomplish. While anchored at Santa Rosa Island Francisco was working live squid on a Calstar 670 loaded with 25lb Ande monofilament when the world record fish hit. Francisco couldn't have been a better candidate to hook and land this monster flat fish. He is a diesel mechanic and often works on the Mirage as well as other sport boats in our fleet. He has been fishing our beautiful islands most of his life and had the right gear and talent to land this whopper. After a 10min epic head bobbing battle, Francisco emerge victorious. By the time the fish was back at the landing the barn door of a lifetime weighed in at a mind blowing 67.3lbs blowing away the previous record of 58 and change. A quick call to a notary and some IGFA paperwork secured the pending world record California Halibut. Needless to say a day to remember and a day for the record books, but team Mirage was not done yet.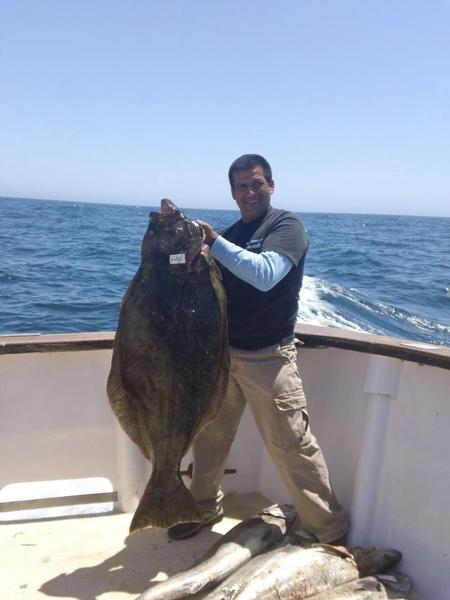 The Mirage didn't have much time to celebrate their world record mission; they had more fish to catch and knew just how to do it. Captained by Tucker Macomb the Mirage headed out on an outer islands fishing trip. The buzz in the tackle shop was still fresh; everyone was talking about the world record halibut. For angler Rich Smith from Taft he was about to score another record breaking flat fish. With a rental rod in hand and a boat full of co-workers Rich showed everyone on deck how to land another record halibut. After a tiring fight Rich landed a 59.2lb halibut, another flat fish breaking the 12-year-old world record!
In a matter of 4 days the Mirage landed a 57.5, a 59.2 and an astonishing 67.3lb California halibut. One old timer told me "this is how fishing use to be", a welcome change from the "should have seen the fishing in the old days" comments.
With 261 halibut pulled in on our boats at Channel Islands Sportfishing Center from June 1st-July15th I believe our fishery here at the Channel Islands has bounced back greatly. So get your gear ready and come out to the beautiful Channel Islands to claim a trophy halibut of your own and be part of history.