Invertebrates of Interest: California Spiny Lobster
California's coastal waters are home to a multitude of invertebrates (species lacking a bony skeleton). A small fraction of these, including California spiny lobster, are actually targeted by California's recreational and commercial fisheries.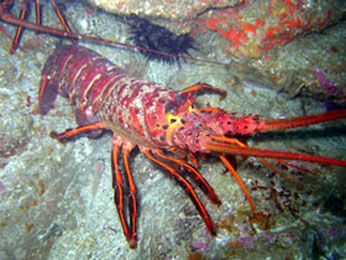 CA spiny lobster ventures from its den. CDFW photo by Derek Stein.
Return your lobster report cards by April 30 following the season closure to:
CDFW
Lobster Report Card
3883 Ruffin Rd.
San Diego, CA 92123
You can also submit harvest data online.