Sea Jay – July 18, 2013
John the attached picture of the 35lbs Halibut that I caught on the trip of 7/18. I tried to send it by way of facebook but I don't know what I' m doing, hey it's just like when I'm fishing. LOL.
Gerald Hartz
July 23, 2013
Thanks Dustin!
Not just for the C.P.R. photo but for the whole trip!!!
We get too few of these times to spend, having our kind fun. Your crew made our short trip such a quality event that I know I speak for us all in saying we will all remember our great time on the Ranger 85 long until the end of our days. Thank you again, and I hope to fish with you and your folk soon.
Walt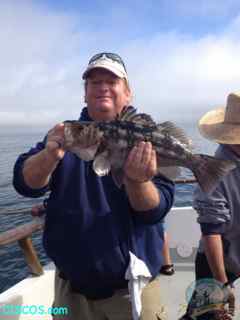 June 6, 2013
This is Mark P and I caught this fish on the cobra with a rental pole. It was the last fish over the deck for the day and won the jackpot, over 45 lbs, 20 min to get in. I almost handed the pole to anther guy but stuck with it and got him. Would you hang this in the building if I come fishing again and bring a framed copy for the walls down there? Bragging rights you know, fishing tales. I could tell people you can see mine on the wall at channel islands sport fishing.Mark P.