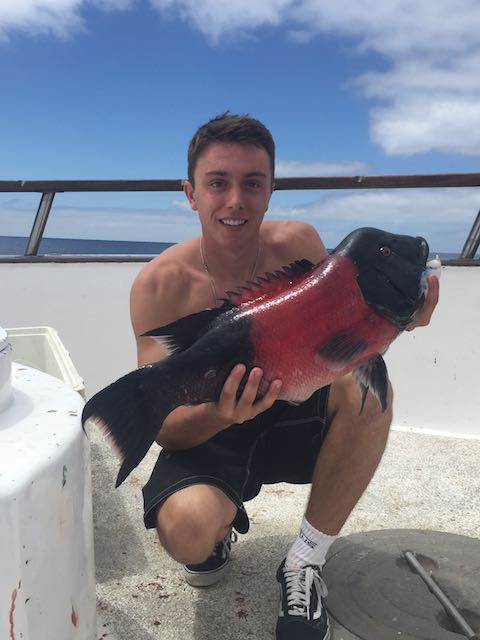 Fishing on the Seabiscuit – August 9, 2015
"Hi guys,
Hey, just wanted to thank the Captain and crew of the Seabiscuit for a great trip to San Nicolas Island. When we were told by the Capt, I think his name is Matt, that we were headed out to San Nic, I was a little apprehensive going all that way to chase yellowtail and maybe cut the rock fishing to a minimum and come home with only a few in the bag. Well this Capt put us on fish every stop. I was the guy with his son chucking the iron on the bow. We caught a lot of bone heads but also lost a big yellowtail and another came unbuttoned my son got one on his Carotto set up. He then moved the boat and we started to put the hurt on some monster sheephead. We both had 5 extra large models in the 10-15lb range with plenty of reds and chuckheads to complete two fat sacks.

Thanks guys it was a great trip. I was diagnosed with terminal cancer 4 years ago and I'm not able to do many trips anymore so I'm really glad we came out with you guys.
I have already told my fishing buddys to get out with you and my son who was really impressed has also spread the word the Seabiscuit Captain and crew are 5 stars thanks so much ……..Mike L."
For information or reservations, you can call 805-382-1612 or to just book your trip, click here for schedule and availability.