June 17, 2012
With close to a full load of people anxious to try and catch the sea bass we departed at 10 pm to points far away. Arriving right at grey light to our destination there was not much sign of life, after a couple anchor jobs we did find an area that was holding some fish and we were rewarded for our efforts with a 35 lb. halibut and 4 school size white sea bass.
Rock fishing was a little slow to start with but eventually progressed into a decent bite with average to good quality. Nice sheep head, whitefish and lingcod to top of the sacks, and it ended up being a very nice day with a great group. Till next time. We look forward to seeing you on the water. Steve
June 19, 2012
Fishing with a light load of 15 passengers today and some breezy conditions forecasted for the afternoon, we opted to try Santa Rosa Island on the protected side of the island. Weather was very nice this morning with 5 – 10 knots of breeze for the most part. The sea bass grounds have good signs of life with squid being snagged and lots of birds and sea lions in the area. After a couple hours with nothing to show for our efforts the decision was made to fill the sacks with rock fish. Fishing in approximately 150 feet of water the fish cooperated with us and by the end of the day everybody had a nice sack of fish to enjoy.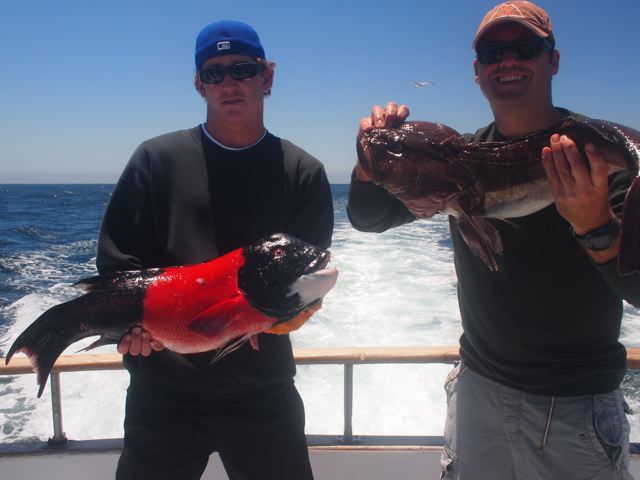 Along with the rock fish we also captured 18 quality lings and a large sheep head 20 lbs. Water temperature is slowing creeping upward; just a matter of time before the outer islands starts to kick out those legendary counts that we have not seen in a while. Till next time.
We look forward to seeing you on the water.
Steve