Coral Sea Big Game 6/22/13
Ultra Limited Load Trips

The past couple days were an exciting few days on the water. With high hopes, we departed Friday evening at 9 pm with big game on our minds.
You could feel the excitement amongst all onboard as catches have been good with quality game fish stealing the spot light.
Saturday, the fishing grounds were teaming with boats and try as we might, we did not connect with a big hit. We searched far and wide, and all of our anglers fished hard in anticipation.
We managed a couple of seabass for our efforts, but not nearly what we had hoped for.
Sunday, however, we got our evens. The seabass were on the bite and we were in position.
We managed 17 seabass and 8 nice halibut.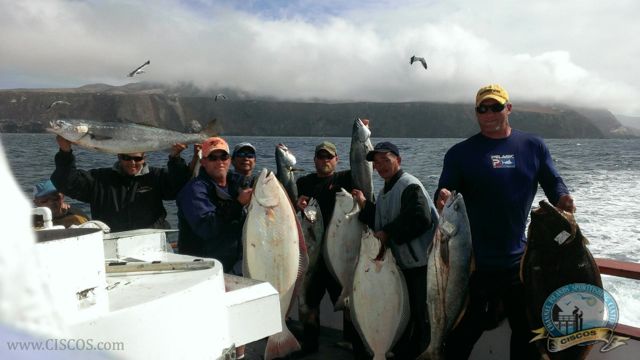 It seemed like our plan finally came together.
Thanks to all for fishing hard, and making it a successful Big Game adventure.
We have just a couple spots available this Wednesday evening departing at 9pm.
We hope to see you onboard. With plenty of squid in the region and lots of game fish roaming around, I'm sure this next trip won't disappoint.
You can reserve online @ CoralSeaSportfishing.com or call 805 382 1612.
See you onboard,
Capt. Alex