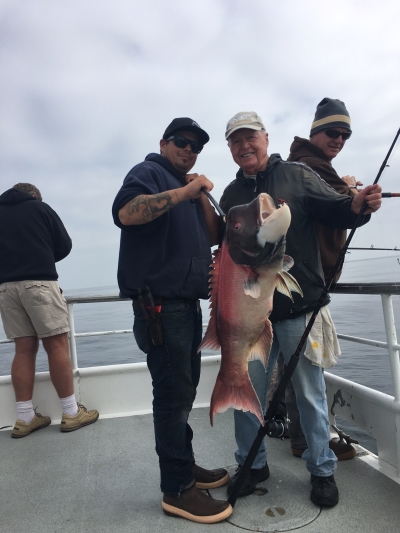 Fishing this week was a bit tough
This week's fishing was full of "ups and downs" as the weather wreaked havoc on our plans of catching game fish like White Seabass and Yellowtail.
Because of the previous week, we had high hopes of getting this season off to an early start, however, the fishing gods had other plans. Much to our dismay, a low pressure system moved through the area and killed any chance of getting to the spot the fish had been caught. By the time the system blew through and we were able to get out there, the fish had moved and so did the squid they had been feeding on.
White Seabass bite
Sometime during the middle of the week reports started coming in that the Seabass were found on the other side of the island. Our boats with excited anglers loaded up and headed to the spot only to find an armada of commercial squid boats blanketing the fishing grounds. We were able to mark a few individual fish on the meter but no big schools as we had hoped. Finding bait was no problem however. A couple of our boats loaded up on squid by filling the bait tanks, ice chests and even gunny sacks full of the "candy bait". Unfortunately, the fish didn't bite for our boats and the forecast called for another storm on the weekend.
Stormy weekend weather
Saturday we kept the boats at the dock because of 40+ knots of wind and Sunday looked in doubt until the forecast changed enough to allow boats to go fishing. The outer islands were out of the question because of a rather defined wind line cutting through Santa Rosa Island but the local islands looked like they would be OK. Fishing Anacapa and Santa Cruz we found good weather and game fish all over the sonar.
Yellowtail bite
Two of our full day boats took some of that fresh dead squid we caught a few days prior and turned them in to 15 to 25 pound Yellowtail!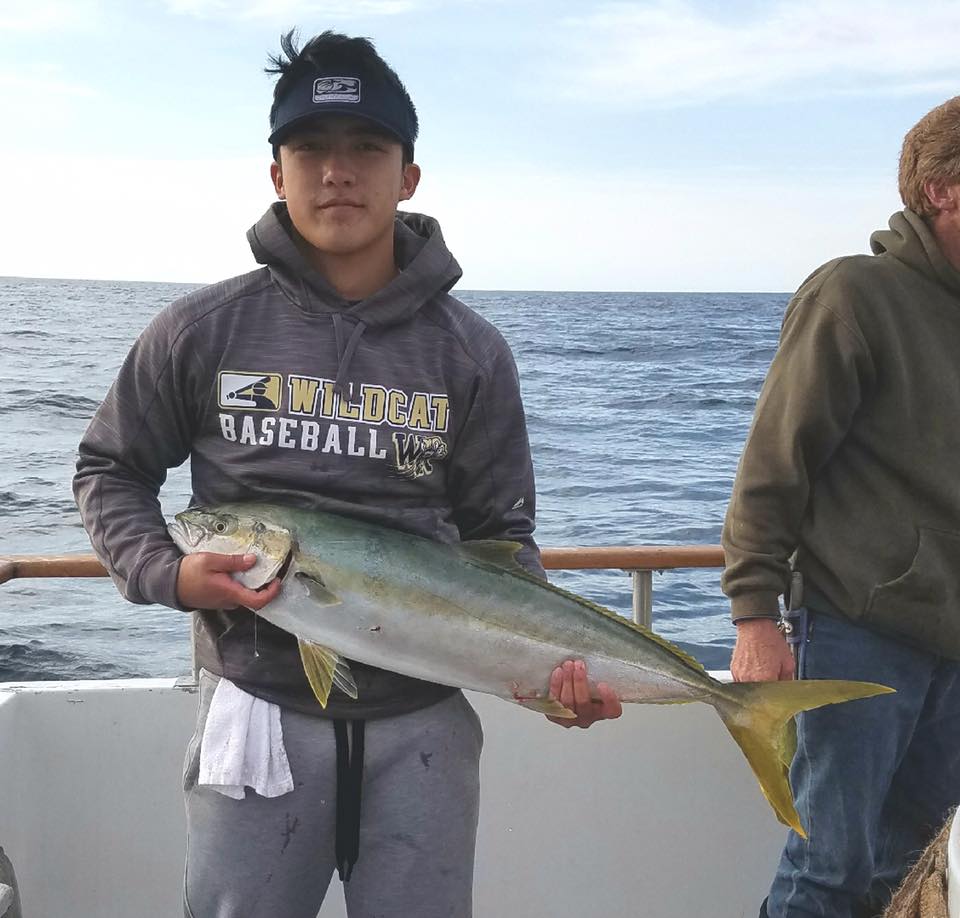 Rockfishing remains good
Besides fishing for big game, we had plenty of bent rods on our boats this week. The bottom fishing has been great as it has been for much of the season. We are starting to see more Lingcod on the morning boats, which we have noticed a trend forming over the last few weeks now. Whitefish and Sheephead are also being caught but it seems the number of Whitefish is down compared to previous weeks catches.
All in all, this week was tough. Fishing proved frustrating and the weather wasn't cutting us any slack. We did the best with what hand we were dealt, but keeping our chins up, we again were able to end the week on a high note.
Much like our report last week, Sunday brings new optimism and excitement for the upcoming week of fishing the Channel Islands!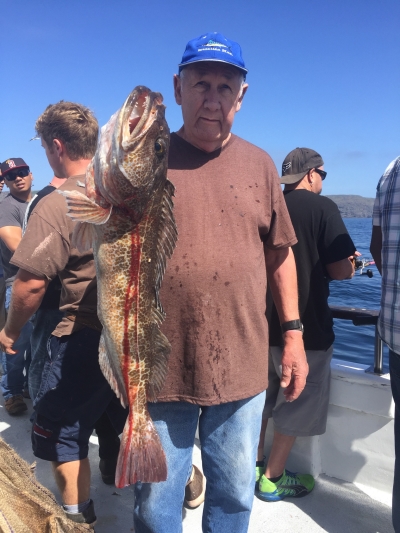 Whoppers:
1) Larry Sartain from Granada Hills caught a 10lb Lingcod on the Pacific Islander fishing San Miguel Island.
2) Jay Levites from Port Hueneme caught a 17lb Lingcod on the Mirage fishing Santa Rosa Island.
3) Don Rowell Sr (81 yr old) from Oxnard caught a 15lb Lingcod on the Gentleman fishing Santa Cruz Island.
4) Ralph Stam from Burbank caught a 15lb Sheephead on the Speed Twin fishing Anacapa Island.
5) Frank Godinez from Oxnard caught a 20lb Sheephead on the Island Tak fishing Santa Cruz Island.
6) Keith Ballard from Oxnard caught a 25lb Yellowtail on the Cobra fishing Anacapa Island.
For information on fishing, what to bring, or live bait availability, give us a call at 805-382-1612.
Check out our Facebook page for fishing photos, fish counts, giveaways and more!
Let's Go Fishing!