Fishing Report:
Great weather combined with outstanding fishing has made this a summer to remember! Over the last couple years we have been spoiled with better than average surface fishing.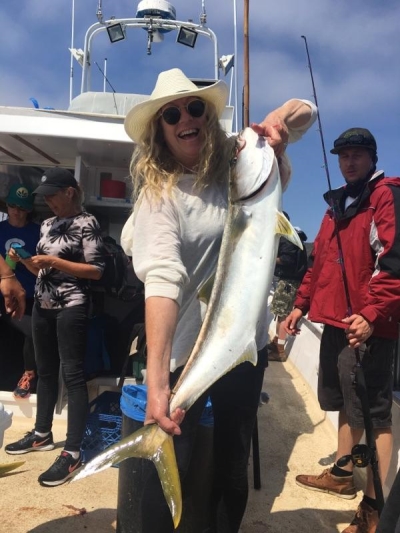 Yellowtail has been the big game of choice but Calico Bass fishing has been better this year than any in recent memory. It's hard to relay how good the bass fishing is simply because anglers often choose to release these fish so we often do not have them included in our fish counts. But boats targeting them are really doing well. Not just great number of bass but some true monsters are being caught. Almost every day we hear about an 7 or 8 pound Calico being caught.
Still, the big Yellowtail are stealing the show. The last two weeks we have seen an increase in hook to land ratio simply because anglers are getting the message to bring heavy gear. At first we were catching smaller Yellowtail more than manageable on 20 to 25 pound gear, but then we found these bigger fish and lost almost all of them that were hooked. It took almost a week to really get the message across to our customers to bring heavy line and a rod and reel to match. Not that we were slow to react and get the info out but people simply didn't believe they actually needed line that heavy.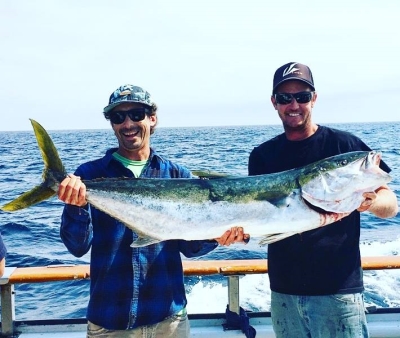 So, to make a long story short, anglers are showing up ready with the proper gear! We are catching Yellows now that are honestly averaging 30 pounds but many are much larger. There are 50 and 60 pound Yellowtail swimming around out there so be ready!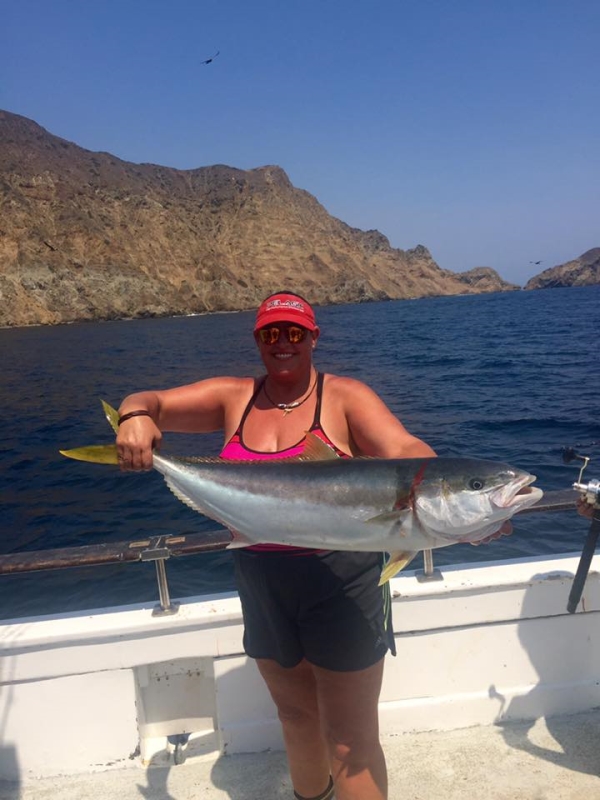 Channel Islands Sportfishing Whoppers:
1) Sunny O'Neil from Thousand Oaks caught a 38lb Yellowtail on a 3/4 day trip aboard the Gentleman.
2) Donna Wray from Oxnard caught a 20lb Yellowtail on a full day trip aboard the Aloha Spirit.
3) Joshua Rosenkrantz from Ventura caught a 45lb Yellowtail on a 3/4 day trip aboard the Erna B.
4) Darrell Shon from Santa Barbara caught a 30lb Yellowtail on a 1/2 day trip aboard the Speed Twin.
5) Scott Moberly from Ventura caught a 26lb Yellowtail on a 2-day trip aboard the Mirage.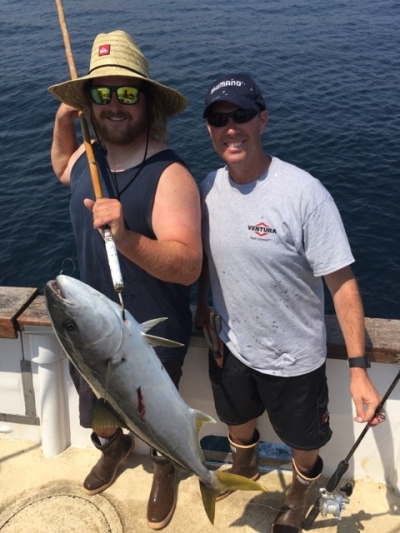 We have trips departing daily. If you would like to join us, get up to date live bait information or fishing tackle recommendations, call 805-382-1612 or book your trip online here.