Cisco's – Channel Islands Sportfishing Center, Oxnard.
Week ending 12/06/15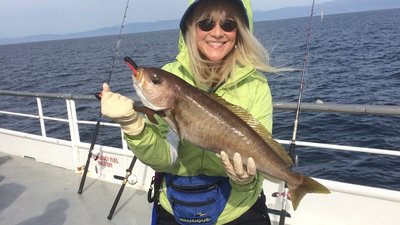 Sportfishing Report:
The first week of December was productive from a quantity standpoint. All the boats are basically bottom fishing for Red Snapper, Sheephead, Whitefish and of course Lingcod. Local boats are doing well at the islands but also had a couple outstanding days fishing the coast. In fact over the weekend the boats that fished the coast were in early because they caught there limit of nice Rockfish so fast. The overnight boats have been enjoying good weather so they have been going to San Miguel Island with regularity. If you looking for not only a lot of Lingcod but big ones, this is the trip for you! All the overnight boats have been reporting easy limits of Lingcod to go along with respectable numbers of Whitefish and Sheephead. They have also been catching limits of Rockfish with Vermilion Rockfish making up the bulk of the 10 fish limit.
As for those looking for late season game fish like Yellowtail, there is still hope. If you go fishing on one of our early departures you may see someone catch a big Yellowtail or be lucky enough yourself to hook and land one. This past week we didn't catch many but a couple were landed on our local full day boats. With that said, most anglers at this time of year are looking for numbers. Everyone is looking to stock their freezers for the off season before it's too late. Time is definitely running out and we only have 25 days left in this season.
The clock is ticking, let's go fishing!
Call us at 805-382-1612 for information.
Book online at https://ciscos.fishingreservations.net/sales/
For our daily fish count updates – http://www.channelislandssportfishing.com/fishcount