Fish Report:
At the local islands Anacapa and Santa Cruz, the Yellowtail are still out in force. All of our morning departures are catching some nice sized Yellows simply fly-lining live baits.
This week we have had huge bait in the wells. Because of this we are having to recommend some larger hooks than we would normally suggest. 4/0 up to 7/0 hooks have been what's needed for these big Sardines and Mackerel. Of course bring smaller hooks in case the bait is smaller on the day you go. As for tackle, we are also still recommending 40 pound line and heavier if you have it. Fluorocarbon leader to match your main line is also a good idea to have.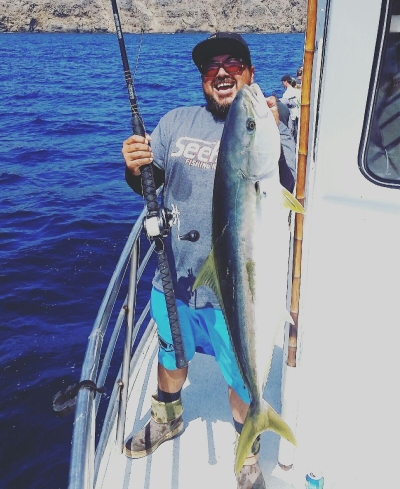 Your chances of hooking a big Yellowtail are very good on any of our morning departures. No signs of things slowing down but don't wait to book your tickets. This top water bite will eventually end and we would hate to see you left out. If big Rockfish and Lingcod is your thing than consider an overnight trip. All the boats running to the outer islands are getting limits or at least close to limits of big reds and other bottom species including Ling Cod. San Miguel and Santa Rosa Island have been the islands of choice for our overnight fleet with a few trips to San Nicolas and Santa Barbara Island mixed in.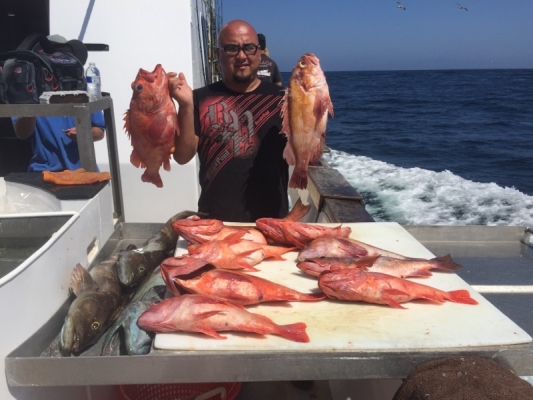 Unfortunately we can not tell you exactly where you will be going for a few reasons. Some of these islands are controlled by the United States Military and are occasionally closed down for firing exercises. The weather also plays a major roll in what locations the outer island boats can fish. Just come ready with a big cooler loaded with ice for your catch, especially if you're taking home whole fish.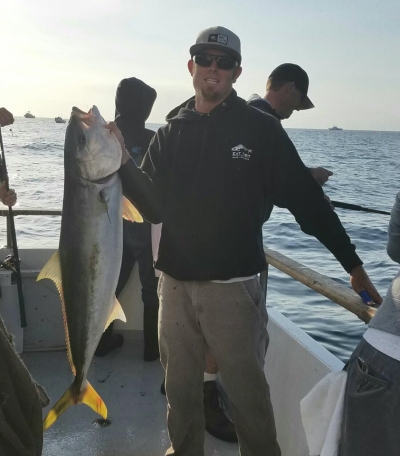 Lastly, its time to address all the rumors about Bluefin Tuna and Yellowfin Tuna being up this far north. We have no confirmed catches but have had a few potential sightings reported. Not trying to get your hopes up but we have not ruled out Tuna trips in the fall just yet.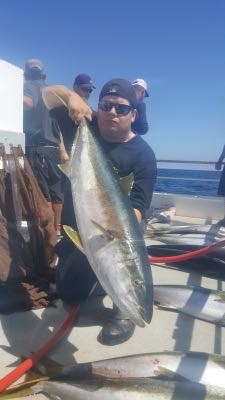 Fish Whoppers:
1) Greg Morris from Ventura caught a 36lb Yellowtail on a full day trip aboard the Cobra.
2) Kai Lu from Santa Barbara caught a 30lb Yellowtail on a full day trip aboard the Erna B.
3) Chris Lukens from Oxnard caught a 32lb Yellowtail on a full day trip aboard the Aloha Spirit
4) Geoff Hepworth from Simi Valley caught a 40lb Yellowtail on an overnight trip aboard the Mirage.
5) Bubba Romero from Moorpark caught a 28lb Yellowtail on a 1/2 day trip aboard the Speed Twin.
6) Santiago Jimenez with "Chasing Tail Fishing Crew" in Oxnard caught a 27lb Yellowtail on Erna B.
For information on live bait, tackle recommendations or to book a trip, you can call us at 805-382-1612. If you just want to book a trip, click here and you can book online whenever you'd like.
Thank you for fishing with us!