Battling the big Yellowtail
This week we battled the big yellowtail again. Local island boats headed out each morning with the intent of bringing home a boat load of Yellowtail, but the fish themselves had other plans. Taking your hooked bait while swimming full speed, then running for cover or simply "bull-dogging" you until your line snaps. This is how it usually goes when hooked into Channel Islands home guard Yellowtail, unless you come well prepared!
A reel that holds plenty of heavy line and a reel with smooth drags, designed for this style of fishing. Having spools of fluorocarbon leader to give you an edge never hurts. Fish not only can't see it but it's much more abrasion resistant than regular monofiliment line. Anglers able to cast the iron or work a yo-yo jig will also have a better shot at hooking one of these bigger yellows.
Deep Sea Fishing
With all that said however, it seems, more often than not, the jackpot fish is caught by an angler fishing "deep sea" for the first time on a rental rod. Just goes to show, not only having the right equipment but knowing how to use it is very important. Listening the your crew member's advise will also increase your chances. They have been on the water all summer long and know exactly what the fish are wanting. It can change sometimes from day to day, so having a crew member's knowledge on your side is a huge advantage. We want our anglers to catch fish!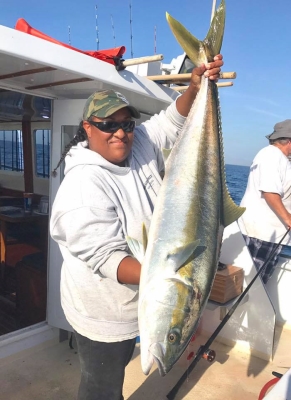 Fish Whoppers for this week
Jerry Stussman from Ventura caught a 20lb Yellowtail on a 3/4 day trip aboard the Erna-B.
Ana Kelly from Oxnard caught a 25lb Yellowtail on a full day trip aboard the Aloha Spirit.
Jay Maharas from Oxnard caught a 28lb Yellowtail on a 3/4 day trip aboard the Erna-B.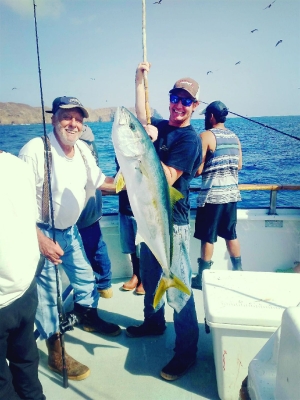 To see our daily fish counts, click this link http://www.channelislandssportfishing.com/fish-count
To book your trip online, click this link https://ciscos.fishingreservations.net/sales/
Call us at 805-382-1612 for current info or live bait information.