Calico bass fishing this week was outstanding! Yellowtail still biting some. Weather was good.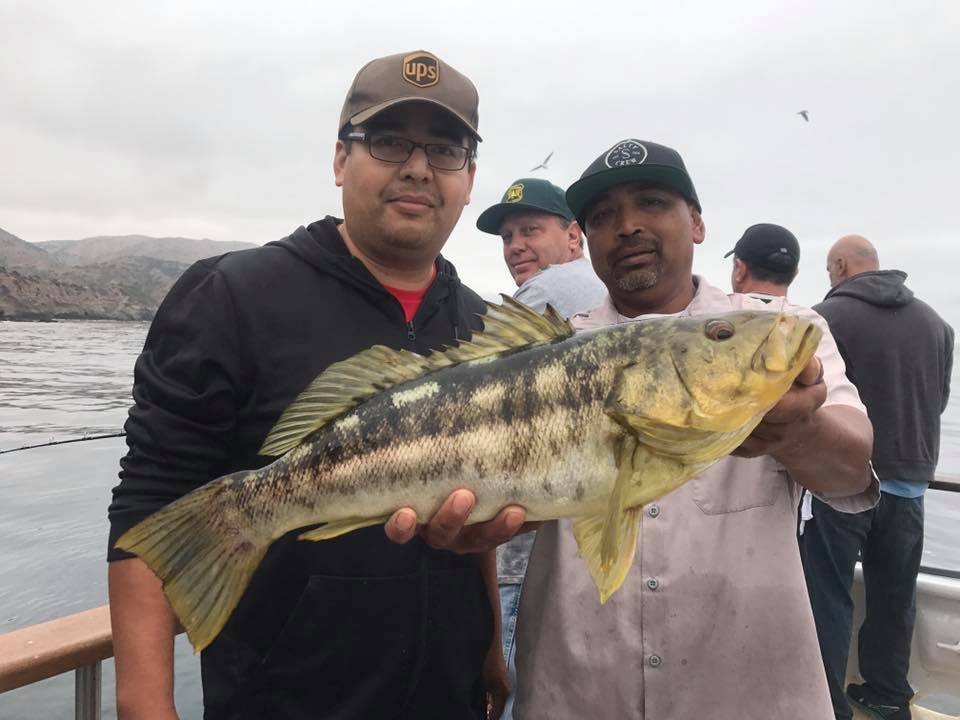 Calico bass fishing this week
This week we enjoyed some of the best Calico fishing anglers have ever seen and for those that have fished these parts for a long time, the best bass bite in at least a decade. Not only the amount of fish being caught but the amazing quality. The recent change to 14 inch minimum size is a non-factor as we don't even need to measure these bass. They are averaging 16 or 17 inches with most much larger than that. Catching a Calico Bass weighing 6 or 7 pounds is not uncommon with large models hitting the 10 pound mark.
Surface fishing mostly during the week
The sportboats are fishing top water Monday through Friday because of the mellow boat loads while on the weekends we are seeing more bottom fishing. With that said though, it is not set in stone that if the boat is full you won't fish surface species. This past Sunday we had over 50 anglers on our open 3/4 day trip go surface fishing with excellent success. They not only had a lot Calico Bass but even caught a dozen Yellowtail. Rounding out the trip with shallow water bottom fishing for Sheephead and ravenous Whitefish, they were able to put together a rather impressive fish count.
Yellowtail fishing continues
This week the fishing was solid with the only big differences from the previous week being the before mentioned Calico bass bite and the size of the Yellowtail increasing. Previously we had been catching Yellowtail in the 10 pound class or even smaller, but this week we saw a jump to larger fish in the upper teens with several Yellows over 20 pounds. Not the big lunkers we have been spoiled with over the last couple of years but still fun fighting fish and great for the kids.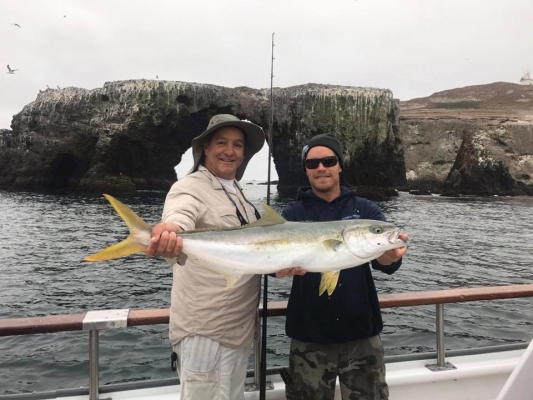 Good weather this past week
The weather was good and kind to us this week also. The sky remained overcast and the air temperatures, still muggy, but much cooler than previous weeks. The ocean was overall calm with a mild south swell pushing more warm water up our way. Here we find ourselves at the end of July and getting the weather we expect to see in June. This is definitely an unpredictable year, but that is what makes fishing such an exciting activity. You never know what you'll catch while fishing the deep blue!
To see our daily fish counts – http://www.channelislandssportfishing.com/fish-count
To book a trip – https://ciscos.fishingreservations.net/sales/
For any other information, including live bait availability, call us at 805-382-1612.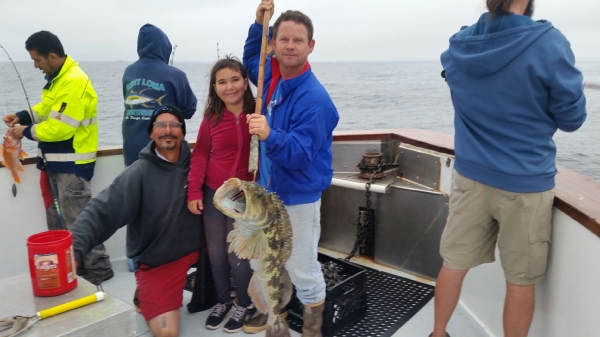 Constantin Voicu from Rancho Cucamonga California, caught a 29lb Lingcod on an overnight trip aboard the Pacific Islander.
Robert Vildosola from Oxnard California, caught a 19lb Sheephead on a 3/4 day trip aboard the Gentleman.
Mark Gaskil from Ventura caught a 26lb Yellowtail on a overnight trip aboard the Mirage, at San Nicolas Island.
Allan Pilliado from Oxnard California, caught a 20lb Yellowtail on a full day trip aboard the Aloha Spirit.
Jeff Lane from Glendale California, caught a 18lb Yellowtail on a full day private charter aboard the Island Tak, at Santa Cruz Island.
Jesse Paredes from Moorpark California, caught a 7.5lb Calico Bass on a private boat fishing Anacapa Island. Caught on a scrambled egg colored surface iron.