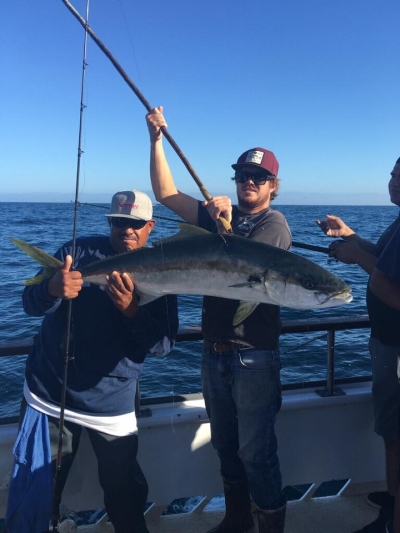 Yellowtail Fishing Continues
The Yellowtail bite continues as predicted into the month of October. Anacapa Island is still the "hot spot" but if you want to get away from crowds and Sea Lions, Santa Cruz Island may be a good backup location. There are still a lot of Yellows there with the occasional White Seabass school being seen too. Plus, bass fishing for Calico Bass is great at Santa Cruz. As for the Yellowtail, in past reports we have been saying the average size is somewhere around 10 pounds. This average had been constant all summer and into the first part of fall, but as it sometimes does in October, they got bigger. The Yellowtail we have been catching this first week of October are now averaging 20-25 pounds. A big jump in size from what we had seen over the last several months. The smaller fish are still around, but schools of these bigger yellowtail are taking over. Otherwise, there is no change in the overall numbers of fish being caught. As this kind of fishing always is, we tell anglers to be ready for anything because Yellowtail fishing can often be "hit and miss". Some days we are fishing them all day, while others it's just a morning bite. Sea Lions are still a major issue at Anacapa Island and sometimes they will shut a bite off themselves. Boat traffic can also effect a bite, so you will sometimes see the game fish counts drop over the weekends.
Outer Channel Islands Rockfishing
The outer islands have had some wind so we have not fished at Santa Rosa or San Miguel Island that much lately. We did get a couple days in though, and so far the wind has not cooled the water all that much. The overnight boats that fish the outer islands are still focusing on bottom fishing for big Lingcod and Rockfish. We had been seeing the occasional Yellowtail or Halibut coming from the outer islands, but none reported this week. This is just fine with most of our overnight anglers because they usually come out to load up on quality bottom fish to fill their freezer anyway.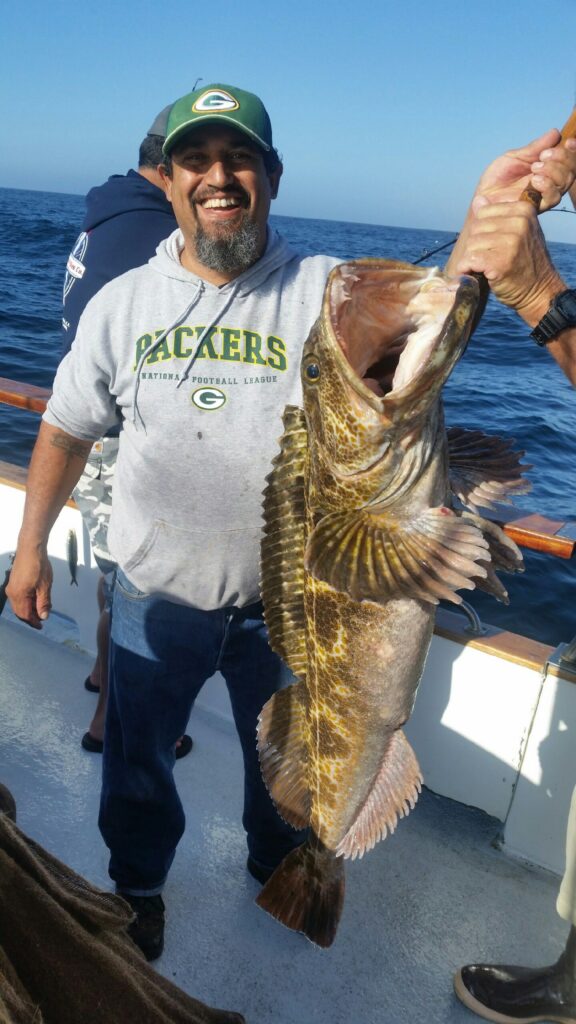 Santa Ana Winds
Looking ahead, our marine forecast looks good with the possibility of a "Santa Ana" condition forming. This time of year is known for having the warm east winds known as "Santa Ana Winds". Usually, it makes for great fishing conditions, warming the water and air temperature along the coast and at the islands. Offshore fishing is especially nice during a Santa Ana because the farther offshore you go the flatter the ocean gets. It also makes for some amazing fall sunrises and sunsets!
Weekly Whoppers
1) Jimmy Osorro from Thousand Oaks caught 28lb Yellowtail on a 3/4 day trip aboard the Gentleman.
2) Robert Martinez from Oxnard caught a 24lb Lingcod on an overnight trip aboard the Pacific Islander.
3) Manuel Ortiz from Santa Paula caught a 24lb Yellowtail on a full day trip aboard the Aloha Spirit.
4) Mike Lewis from Santa Barbara caught a 22lb Yellowtail on an overnight trip aboard the Seabiscuit.
5) Randy Corbin from Ventura caught a 30lb Yellowtail on a 3/4 day trip aboard the Erna-B. (using mint colored surface iron)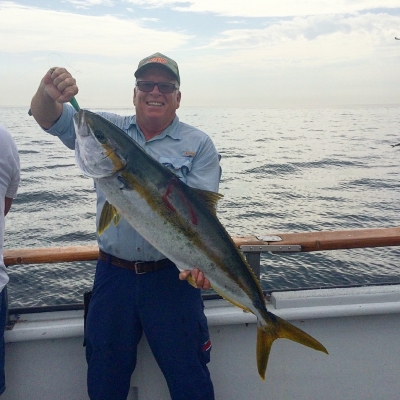 Let's Go Fishing!
To see our daily Fish Counts, click here http://www.channelislandssportfishing.com/fish-count
To book your trip online, click here https://ciscos.fishingreservations.net/sales/
For updated information or Live Bait information, call us at 805-382-1612.
#FishCiscos