Channel Islands Sportfishing Whoppers for week ending July 24, 2016
1) Dan "ODH" Hernandez from the fishing club "Dark Kings" caught a 22lb Yellowtail on a full day trip aboard the Aloha Spirit.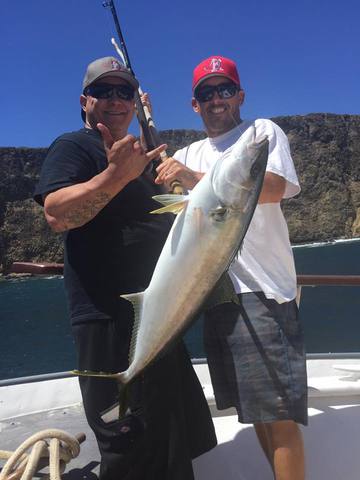 2) Sarah Riess from Bakersfield caught a 25lb Yellowtail on a 3/4 day trip aboard the Gentleman.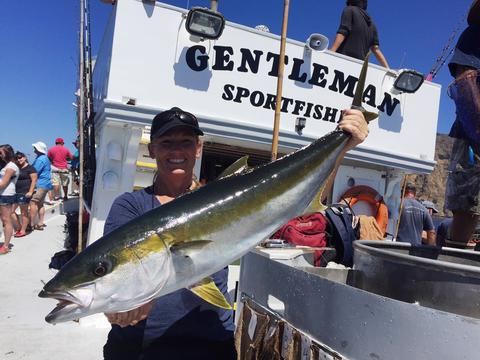 Channel Islands Sportfishing Report:
A red hot Yellowtail bite continues here at the Channel Islands. For several weeks it has been a consistent that all the boats have been able to enjoy. No matter if it's a full day trip or half day trip, they are all catching Yellowtail. Of course the full day trips are catching more but it's not often we can say your chances are good on a late morning trip to catch fish like this. Fishing mostly Anacapa Island and the close end of Santa Cruz Island, these fish are plentiful and biting just about anything you throw at them.
Live bait is working best but several fish have been taken using both YoYo and Surface Jigs. The only critical thing we hope to pass on to our customers is to make sure you have fresh line and to make sure the drag pressure on your reel is not too tight. Let the fish run and keep it in front of you. Following your fish is very important to landing these hard fighting fish. Needless to say we are hooking twice as many fish as you see reported in our fish counts. A lot of fish are lost to either tangled lines or tackle failure. But fishing for Yellowtail is at its best right now! Come take advantage of this bite because it simply can not last forever.
The Yellowtail bite is so good it is overshadowing another unusually good bite right now. Calico Bass are also biting better than they have in a long time. Not only the amount of fish caught but the size. Most of our anglers choose to release these fish simply to self preserve the fishery. But if you like to fish with lite line and toss lures, this is the fishery for you. They taste great and fight hard. We are also catching a lot of Barracuda and Bonito on our day trips. Surface fishing is definitely our primary style of fishing these days.
Not that bottom fishing for Rockfish and Lingcod isn't good at this time of year but our window to catch surface or shallow water species is relatively short so we must take advantage of this bite while we can. Because of where we are, bottom fishing is good year round and a solid backup if the top water isn't biting for some reason.
Overall the weather is good but this past week we did have some windy days that kept us from fishing the outer islands. Our overnight boats sat at the dock because of this Thursday through Saturday. This was unfortunate because they were catching White Seabass in good numbers right before the wind kicked up. With any luck the outer island boats will pick up where they left off early in the week.
BOOK ONLINE at WWW.CISCOS.COM
or CALL (805) 382-1612
We have trips departing daily. This time of year, the trips tend to fill fast, so if you're considering, make your reservation!