October 8th, 2016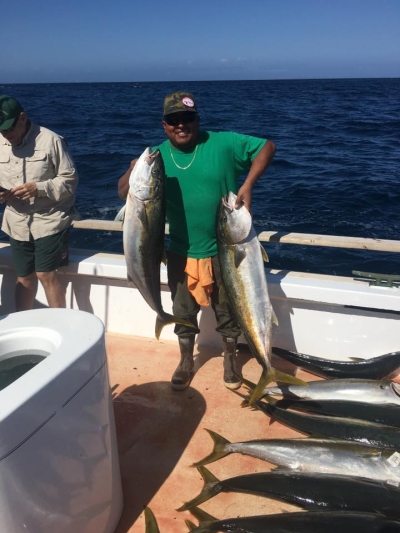 Fish Report:
Here we are in early October and the fishing is still as good as it was in July. A few windy days kept us off the water but finding the fish once we got back out there proved to be easier than expected. The Yellowtail are hanging around a hand full of spots at Anacapa and Santa Cruz Island, luckily on the leeward side of the islands. Even if its windy in the channel fishing these spots are protected and rather nice. Only the ride out and back home are bumpy.
These Yellowtail are still ranging in size from 15 to 30 pounds with a few stand outs up to 40 pounds. In fact this weeks biggest fish was 44.5 pounds weighed here at the landing on our official I.G.F.A scale.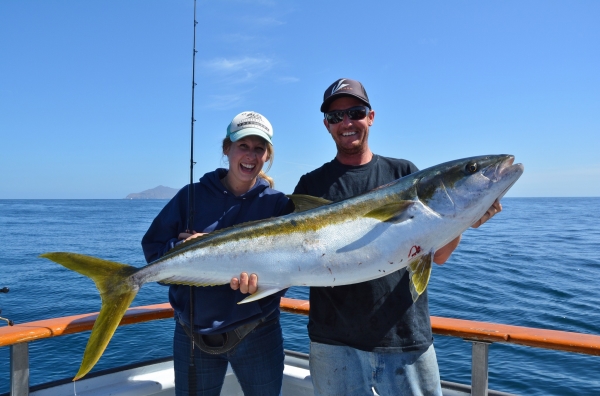 Much like the previous weeks, sea lions are a big issue. Getting bolder each day and growing in numbers the seals are taking a small percentage of the fish from our anglers. Fortunately, our boats are finding ways to keep the seals distracted while we hurry to land the fish.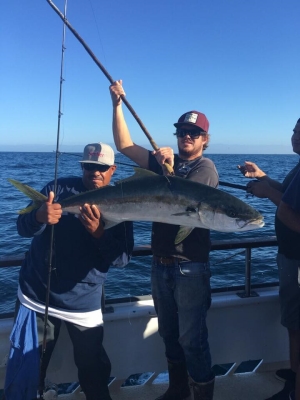 Besides Yellowtail there are a lot of other fish running right now. Its just that Yellowtail are the "big fish" that everyone wants and seems to steal the show. Bonito, Calico Bass and even bottom fishing for Vermillion Rockfish and Lingcod is really good now. For anglers looking to catch Rockfish and other bottom species we are recommending our overnight trips because they are targeting them at the outer islands.
Most of, if not all of our local boats leaving in the morning hours, are fishing Yellowtail and other surface fish. Normally at this time we are fishing bottom fish only with a few surface species hanging out until the water cools. This year however, much like last year, the water is still warmer than usual, so the summer species are still here. Sooner or later the water will cool and with it the Yellowtail and other surface fish will leave. Come fishing before its too later because the "clock is ticking".
Weekly Whoppers:
1) Liz Brannan from Ventura caught 44.5lb Yellowtail (weighed on our official IGFA scale) on a 3/4 day trip aboard the Erna B.
2) Manuel Ortiz from Santa Paul caught a 22lb Yellowtail on a full day trip aboard the Aloha Spirit.
3) Philipe from Oxnard caught a 38lb Yellowtail on a full day trip aboard the Island Tak.
4) Tim Platt from Thousand Oaks caught a 28lb Yellowtail on a full day trip aboard the Seabiscuit.