The Ranger 85 will be departing on a 3 day trip May 25th.
Spring in the Northern Channel Islands is one of my favorite times of the year.
After a great winter of the best rockfishing on our coast, our attention begins to wander, wanting something more.
The water starts to warm and overnight the playing field changes to record catches of game fish like seabass, halibut and the occasional yellowtail.
Santa Rosa Island last year kicked out the World Record Halibut for angler Frank Rivera. In addition, unprecedented white seabass fishing persisted throughout the summer. Just an incredible time to be on the water.
This season looks similar, with cool water temperatures persisting, there appears to be a little sign of squid moving into the shallows. Typically, when this occurs, we begin focusing on these tackle testing species.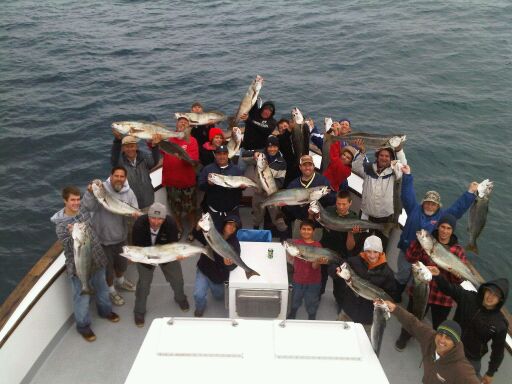 This promises to be a great trip, affording the angler ample opportunity to comb the waters surrounding legendary destinations such as San Miguel, Santa Rosa and San Nicolas in search of halibut and seabass. In addition to the islands rugged beauty, the waters surrounding them are teaming with quality ground fish as well. All this together assures your success when fishing a trip of this duration.
The Ranger 85 is the areas leader in multi day trips.
At 85 feet in length, we are the largest Sportfishing boat in the area. We have comfortable berthing with a couple private cabins. Both upper galley and lower lounge areas are equipped with flat panels for your entertainment while transiting or after a long day of fishing. Refrigerated holds maintain your catch in "just caught condition".
The crew of the Ranger 85 have decades of experience fishing the waters surrounding the Channel Islands.
We are excited with the prospects of this year's 3 Day Memorial Day Special.
Book online today or call 805.382.1612 and we'll see you onboard!
Capt. Frank