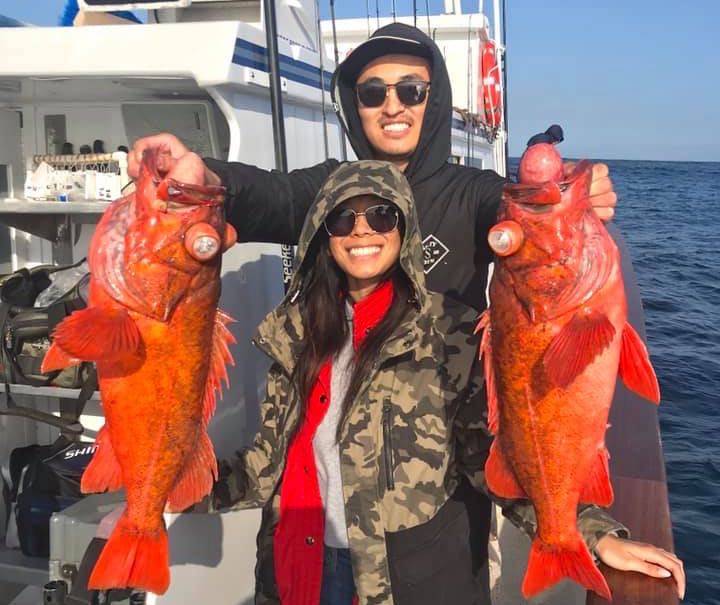 Channel Islands Sportfishing Report
Fishing in the Channel Islands this spring has been a lot of fun and highly productive. Bottom fishing for all kinds of species continues to be stellar, with some of the biggest Rockfish seen in many years. Whether it is in the shallows or deep water, or at the local islands or coastal spots, it doesn't seem to matter. The Rockfish we are catching this year are of the highest quality. The outer islands like Santa Rosa and San Miguel seem to always produce this kind of quality Rockfish, but for some reason this spring, the local boats are experiencing similar quality.
Vermilion Rockfish
There are so many different kinds of Rockfish in the waters around the Channel Islands, the daily fish count list would be a mile long if they were reported individually. For this reason, the boats simply report the catch as "Rockfish". But in general, anglers can possibly catch anywhere from five to ten different Rockfish species on any given trip, but one species in particular is on everyones wish list. The Vermilion Rockfish, otherwise known as "Red Snapper" or simply "Reds", is a prized bottom fish in California waters.
As far as bottom fishing goes, there isn't anything better than a limit of big "Reds" and maybe a Sheephead or Lingcod to go along with it. Rockfishing this year has been spectacular, even without live bait. In fact, some have suggested this is exactly why. While using a Sardine or Anchovy may increase your chances of bagging that big Lingcod, the Rockfish seem to really like a simple strip of squid. Jigs and plastics are also popular for catching fish in the shallow reefs around the islands. Have fun, play around and experiment. It's all about enjoying your fishing experience. We will put you on the fish and even fillet them for you. Enjoy a cheeseburger from the galley and wash it down with a cold beverage, if you desire. It's all about having fun and leaving the stresses of daily life back at the dock.
To book a trip with us here at Channel Islands Sportfishing,
visit us at www.CISCOS.com or call our landing office at 805-382-1612.