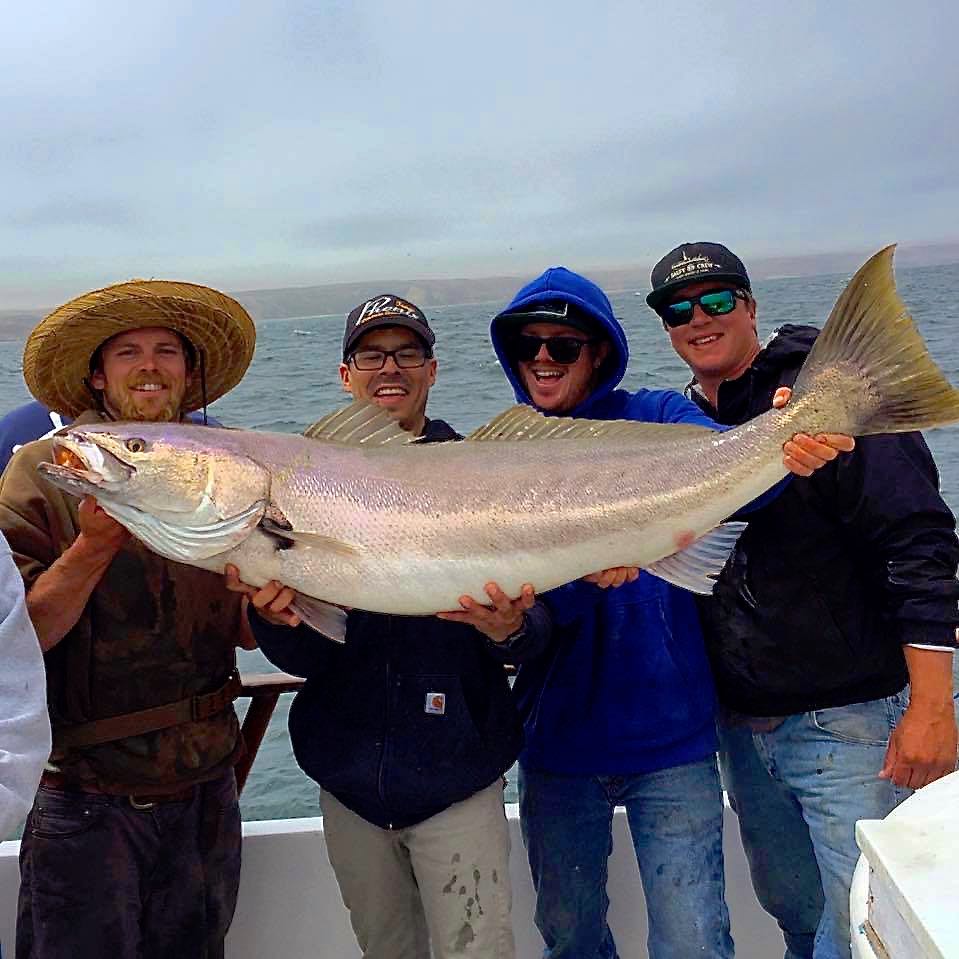 The White Seabass bite is on!
The White Seabass at the Northern Channel Islands have finally gone off and are biting full speed!
A week straight of 3 fish limits have been achieved with only the weather cutting us off from the fish grounds holding the Seabass. This bite is specifically on the overnight trips that fish the outer islands. Not that a Seabass can't be caught at the local islands but if you're looking for your best chance, an overnight trip is a must.
For those looking to catch a White Seabass here at Ciscos, it's important to sign up early on ANY boat fishing overnight. They are ALL getting them in huge numbers and the fish are biting anything in the water. Yes, most are being caught on a simple dropper loop rig, but many have been caught using a sliding sinker to the hook or even a plastic lure. Fish are ranging from 15 to 30 pounds with some true slugs in the mix up to 60 pounds! It has been a few years since we have seen a bite like this, so do not let this pass you by.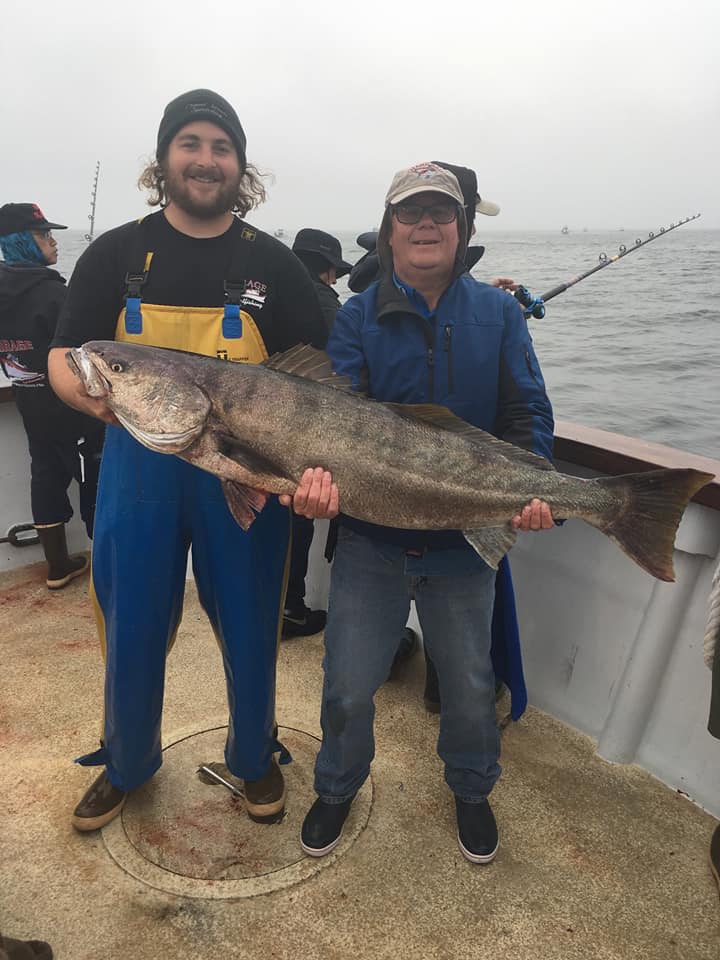 Local boats are fishing Anacapa Island and Santa Cruz Island
As for the local boats fishing Anacapa and Santa Cruz Island, the fishing is also very good there. Some White Seabass are being caught on plastics while Calico Bass fishing and we would say the biggest fish are being caught in these areas. We had a couple fish this week on a full day boat that weighed in at just over 50 pounds.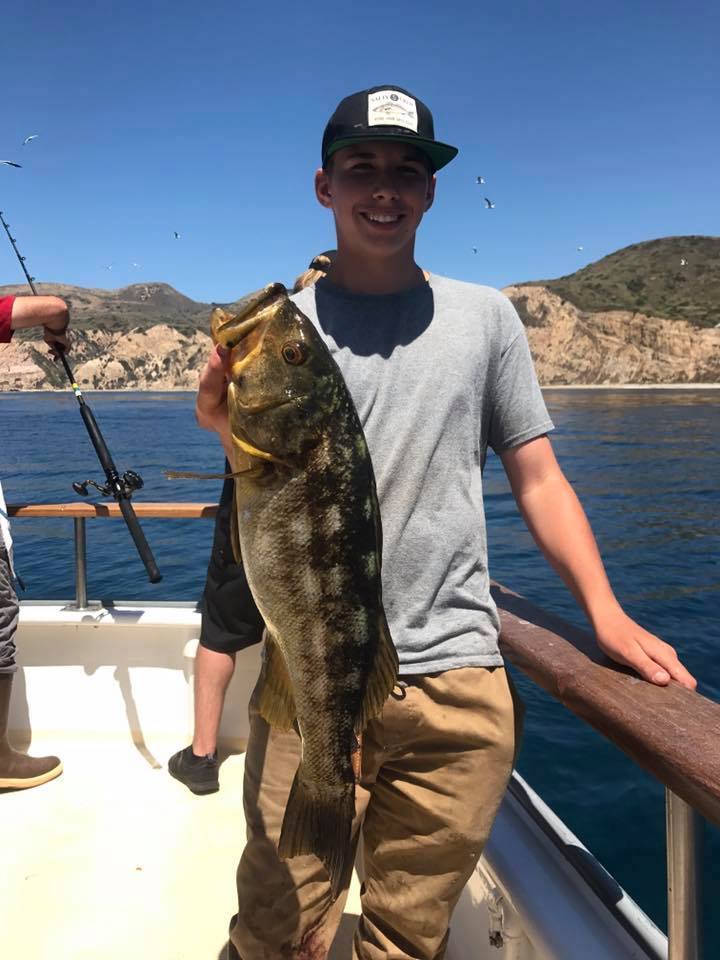 There are also Yellowtail and Barracuda at these islands. Smaller Yellows weighing about 15 pounds but some bigger models are being seen breezing along the surface chasing Red Crab and Sardine.
Find a school of Barracuda and have fun catching them, or let your jig sink out below them because that's where the Yellowtail are! Whether it be big game fish or bass fishing in the kelp or even simply catching nice Rockfish, our area, the Northern Channel Islands is the place to be!
Here are some of the whoppers caught this past week.
Chase Coyne from Ojai caught a 25lb White Seabass on an overnight trip aboard the Pacific Islander fishing Santa Rosa Island using a dropper loop setup with live squid.
Mike Elder from Oxnard caught a 28lb White Seabass on an overnight trip aboard the Seabiscuit fishing Santa Rosa Island using a dropper loop setup with live squid.
Del McCoy from Los Angeles caught a 38lb Halibut on an overnight trip aboard the Mirage fishing Santa Rosa Island using live squid on a dropper loop rig.
Chris Lukens from Oxnard caught a 30lb Yellowtail on a full day trip aboard the Aloha Spirit fishing Santa Cruz Island flylining a live squid with 1/2 egg sinker.
Sterling Teshima caught a 52lb White Seabass on a full day trip aboard the Island Tak.
Rodel Magsino from Oxnard caught a 16lb Lingcod on a 3/4 day trip aboard the Gentleman.
Alex Compos with Phenix Fishing Rods caught a 56lb White Seabass on a 3-day Sponsored trip by Phenix Rods, aboard the Ranger 85.
Call us at 805-382-1612 for current conditions, live bait information or to book a reservation.
We also have online booking always available. https://ciscos.fishingreservations.net/sales/
Daily Fish Counts can be found at http://www.channelislandssportfishing.com/fish-count