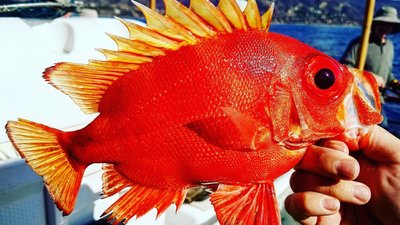 Fishing Report:
We started the week off great with the Ranger 85 returning from a 1.5 day trip fishing offshore for Tuna and Yellowtail. They had no Yellowtail but they did manage to land 19 Bluefin Tuna ranging from 80 to 100 pounds.
The middle of the week was slow and only a couple boats made it out. Our best day was Saturday with 9 boats and a total of 222 anglers going fishing. Both Friday and Sunday were shut down because of weather conditions. Lots of rain followed by gale force winds made all our fishing spots unfishable.
For the days we did go fishing, we saw more great bottom fishing. The Whiteifsh are biting as good as we've ever seen at Anacapa and Santa Cruz Island. The Rockfish are getting bigger with each passing day and the Lingcod are becoming a regular catch on local island trips. November and December are known for good bottom fish as the bigger Rockfish and Lingcod come in shallower waters to spawn. It gives us a chance to catch good numbers of them before the 2 month closure.
We did have one notable catch this week on one of our 3/4 day boats. Captain Mike Riddell on the Erna B caught another rare fish to these parts. If you remember, his boat has caught a couple rare fish not normally seen in US waters but this time he caught this fish himself. Not a big fish but a beauty, the Popeye Catalufa has coloring that is so bright and rich it's hard to tell in a photograph. They almost look neon when seen in person. They have a very large eye, hence the name "Popeye". Proportionally, the eye is far too big compared to its body size and gold color around the pupil when seen in person looks exactly like a gold leaf. Obviously it has evolved this large eye for seeing prey in low light conditions in the oceans deepest depth.
Not sure why this same boat keeps catching these rare fish but over the last two months they have caught two Tan Grouper and now this Popeye Catalufa. Still a month to go in our season, so there is plenty of time to fish of catch something special!
Whoppers:
1) Rick Rudy from Ventura caught a 15lb Lingcod on a 3/4 day trip aboard the Gentleman.
2) Dennis Pilkinton from Canyon Country caught a 17lb Lingcod on a 3/4 day trip aboard the Gentleman.
3) Mike Riddell from Ojai caught a Popeye Catalufa (rare fish north of mex boarder) on the Erna B.
4) Robert Gray from Oxnard caught a 100lb Bluefin Tuna on a 1.5 day trip aboard the Ranger 85.