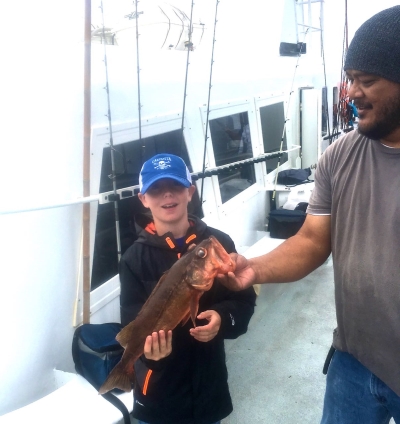 Fall fishing remains good for Channel Islands Sportfishing but this fishing season is quickly coming to an end with only two months left.. October is virtually in the books with Halloween only days away.As fast as this year is going, before you know it, we will be decorating the tree and welcoming in the new year.
Fall Fishing remains good!
Fishing at the Channel Islands remains good all the way through, so our anglers still have a little time left to fill the freezer. Currently, we are still catching a few Yellowtail and other game fish normally reserved for summer months. Not that the water is unusually warm, but simply, the fish haven't left. These species will eventually depart so if your still in search of Yellowtail, Calico Bass, Halibut or even Bonito come get yours!
All of our fishing trips that depart in the morning are starting the day in search of game fish with Rockfish and Whitefish as a backup plan. But as the year comes to an end, all the boats will be strictly bottom fishing as most of the Yellowtail will depart in search of warmer waters.
We are still running 7 days a week with of course, the weekends being our busiest days. With the season winding down, it's time to go fishing! So far this fall we have been blessed with good weather, but that can change at any time. We plan on fishing every day the next two months with hopefully only a limited amount of days off due to bad weather.
We have trips departing to the local islands every morning, plus overnight trips that fish the outer islands. We are also starting to do more multi day trips. With any trip type you are sure to catch some fish, but absolutely guaranteed to have a great time!
Rick Mooney from Hemet caught a 22lb Lingcod on a 3-day private charter aboard the Ranger 85.
Greg Blanda from Laguna Niguel caught a 34lb Halibut on a overnight trip aboard the Mirage.
Ray Razo from Oxnard caught pair of 30lb Yellowtail on a overnight trip aboard the Mirage.
Christopher Van Norden from Rosamond caught a 5lb Boccaccio "Salmon Grouper" on a 3/4 day trip aboard the Speed Twin.
Call 805-382-1612 for any information.