Looking Back…My CISCO's Season 2014
By Joe Sarmiento
I live in West Covina. It takes me about an hour and a half to get the landing at Channel Islands Sportfishing. Despite the long drive, I enjoy fishing here regularly because of the diversity and quality of the fishing to be had. The 2014 season though was special. It wasn't until late in the season that scientists and weather experts officially called it an El Nino year. You didn't need to be an expert though to know there was definitely something different about 2014. It was even better than usual! This year holds the promise for being special again. It's not too early to plan when you'll come visit us next!
March 2014
I got a late start on my CISCOS season. I was supposed to go on an outer island trip for the season opener March 1st, but weather ended up cancelling the trip. I wasn't able to get back out until March 28th.
I brought my friend, Ty Gyotoku, with me. Ty is a salty guy. He is in the Coast Guard and a very fishy angler. We did some halibut fishing during the closure and he told me he had never gotten a lingcod before. I guaranteed him it would happen if he came up with me for this trip. Capt. Steve didn't disappoint, and Ty got his fish!
April 2014
I caught 10 short lingcod on the first Pacific Islander trip of the year, but ZERO legals. It was great to see Ty get his, but that was tough for me. For my son Jacob's birthday weekend, the kids and I rode the Speed Twin. We caught a nice day on the water, but the birthday boy and I both came up short on finding a ling. However, Juliana had one of her best days ever.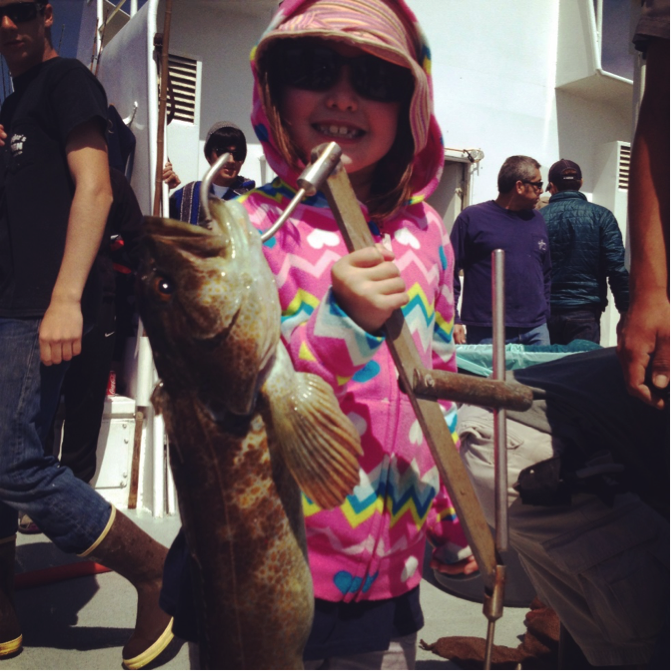 After loading up on rockfish, the Captain Craig said we were going to make a move to spot where we might have a better shot at some lings. When we got there, I setup Juliana on a dropper loop with a live anchovy. Jake and I then went to the opposite side of the boat to throw a jig and see if we could find one of these fish. We didn't have any luck. When we walked back to check on Juliana, she was in the middle of a battle. Not only did she take down this fish by herself, she managed to take down the boat jackpot too…her first jackpot ever!
I couldn't let my 7 year old daughter be the only one in the family with a 2014 lingcod under her belt. I went back on the Pacific Islander April 18th and managed to notch my first of the year.
May 2014
WHITE SEABASS…everyone knows that Channel Islands Sportfishing has great rockfishing (IMO the BEST in the Southern California Bight). What really gets people motivated to drive north to Oxnard is the seabass fishing. Also known as "the ghost" the white seabass is often that one fish that seems to elude even the saltiest anglers. CISCO's is one spot where it isn't uncommon for many anglers to cross this fish off their list.
I hosted bestselling author and NY based angler, Paul Greenberg on the Cobra for my first seabass outing of the year. I didn't catch, but Paul caught a schoolie sized fish to start the day. The angler who took jackpot caught 3 and later told me he didn't catch one the whole previous year. That's how it goes sometimes when you're chasing ghosts.
June 2014
The season was now in full swing at CISCO's…seabass, yellowtail, halibut…everyday quality fish were being caught and I wanted to get in on the action. I pulled a double to start the month and rode the Speed Twin on Saturday, June 1st followed by an overnighter on the Seabiscuit leaving that night.
The target fish for the Seabiscuit trip was white seabass. There was a very small window in the morning that they bit. We only got 4 for the trip, but I managed to accomplish one of my goals for the season, to get a full limit of rockfish only on artificial bait!
I wouldn't have to wait long, though to get my seabass. I hosted a trip on the Ranger 85 for Western Outdoor News. It was a 2 day trip from June 4th to June 6th. I managed to catch 3 ghosts over the 2 days. One of them was my best fish of the year…a 50 lb. wsb!
July 2014
July was an interesting month. The big halibut were hitting at Santa Rosa for a week or so, but it seemed like the "exotics" fishing had otherwise dried up. I totally missed the halibut bite as offshore fishing started to kick in down south. I finally got on the Pacific Islander toward the end of the month. We tried briefly for seabass to start the morning, but no signal and it quickly became a rockfish trip. I got on again the end of the month with no expectations. We got into a ridiculous seabass bite that found the boat limited (at 3 per person) by 9am! Crazy how things can turn like that seemingly overnight.
September 2014
September was full of new CISCO experiences for me. I rode the Sea Jay for the first time. That boat doesn't typically have a lot of open party dates as Capt. John Fuqua has a very loyal following. I missed on getting my first CISCO's yellowtail, but I got a limit of calico bass for the first time up there.
Later in the month, some of the CISCO's boats got into tuna, offshore yellowtail, and even some dorado! I felt really lucky to catch a yellowfin tuna on my favorite rockfishing boat, the Pacific Islander.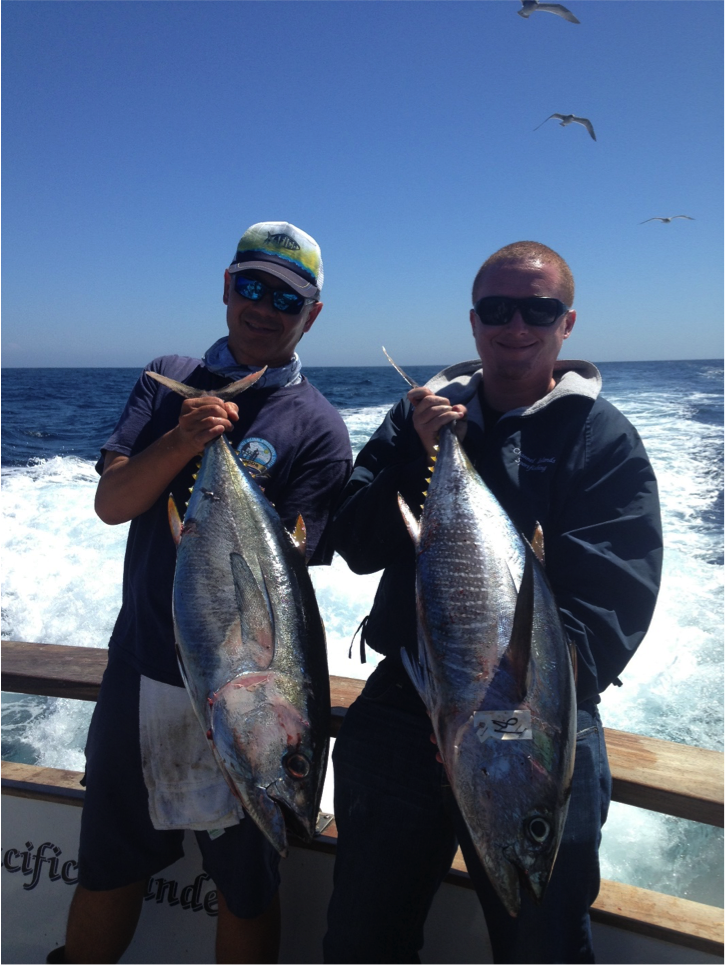 October/November 2014
I wasn't able to get up to CISCO's all October and really regretted it. Squid popped down the beach at County Line and the fishing got re
ally good. Yellowtail were the primary target, but there was a nice sprinkling of seabass and halibut as well.
I overcompensated in November. A yellowtail bite happened at the islands at the beginning of November and I enjoyed a summer-like day on the Gentlemen chasing them with my friends Sunny and Eddie. I pulled a double
mid-month fishing Saturday (Nov 15th) on the Coral Sea chasing those yellows again, this time at County Line. Saturday night, I got on the Pacific Islander for a really fun rockfish trip.
The end of November brought the annual SoCal Salty charter on the Pacific Islander. We had Shimano and Lingcodjigs.com as sponsors and all the anglers enjoyed a great day of fishing.
December 2014
Somehow, December still offered opportunities to catch yellowtail. I tried my hand on the Gentleman in what turned out to be a very strange day. The boat only caught 2 yellowtail. It was a father and son who caught them and it turned out to be the son's first yellowtail and his first boat fishing trip ever. That was very cool to see. What was strange though was seeing the STRIPED MARLIN pop up while we were yellowtail fishing! Typically, if you want a chance at a striped marlin in December, you go somewhere like Cabo San Lucas…not Oxnard!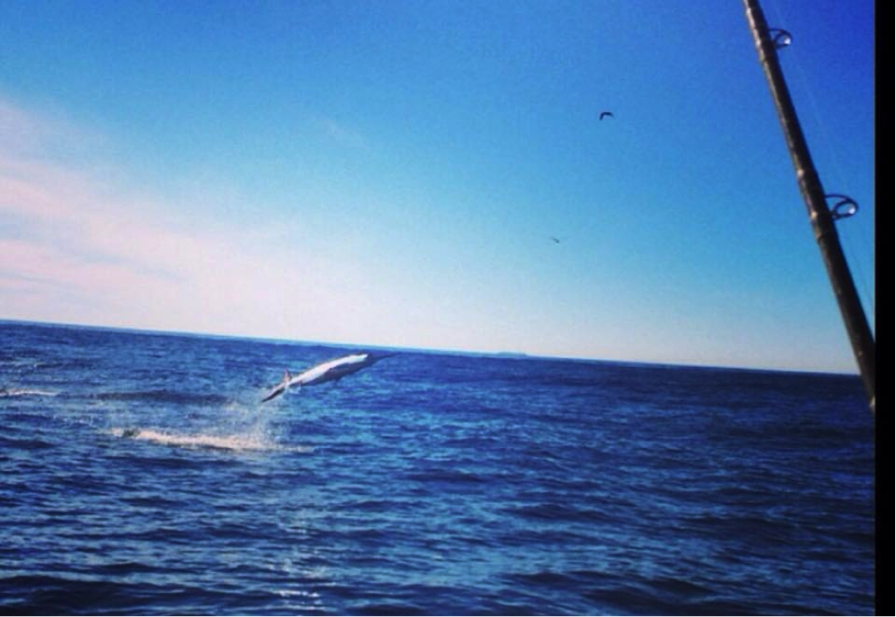 I wrapped up my CISCO's season with one last Pacific Islander trip where I caught my personal best 10 legal lingcod in one trip!
What a year it was in the Channel Islands. You could have caught my entire Top 10 Southern California fish, just fishing on trips out of CISCO's last year. They say these El Nino years come in pairs. We already saw more than a few seabass during December and the first yellows of 2015. It's very possible we could get an early season hit this year. Keep your eyes open and I'll see you at the rail.
For the most current schedule – check here.
For most up to date happenings, follow us on Facebook!