Ranger 85 3 Day Fishing
Channel Islands Sportfishing

We just returned from our Big Game Special aboard the Ranger 85. The trip could not have been any better.
Most onboard were regular customers, and for me it felt like I was spending 3 days in some of the most productive waters in our state with unsurpassed scenery.
Just look at some of the scenery in these game fish images…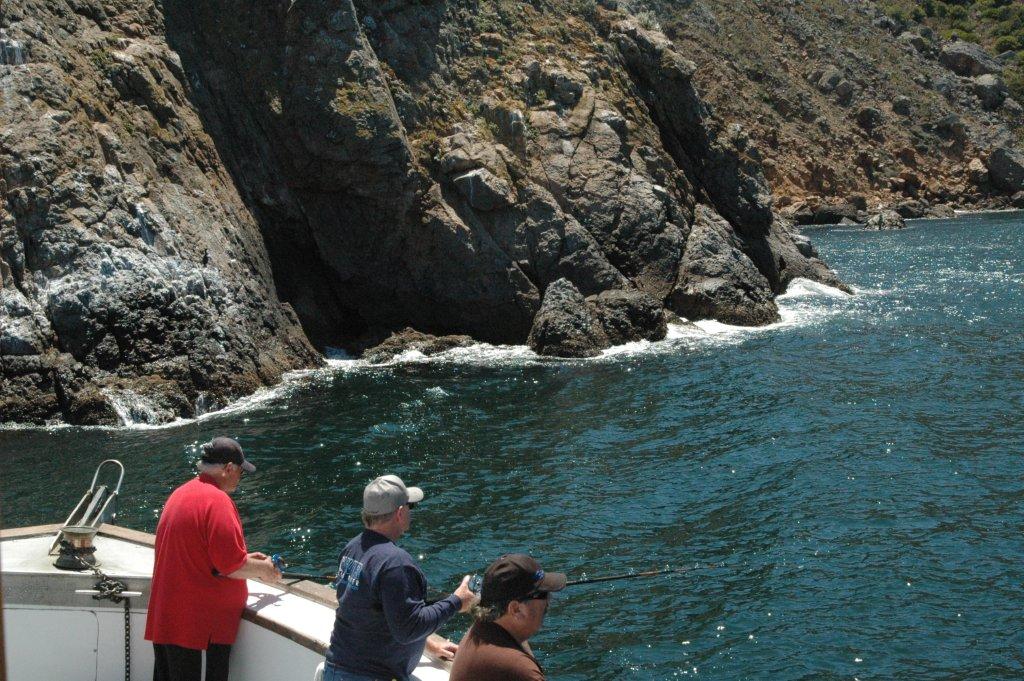 We departed Sunday evening with 30 anglers onboard with high expectations to target White Sea bass.
The weather forecast was for lots of wind for the first couple days, and fair conditions come Wednesday.
We formulated a plan to fish sea bass on Monday/Tuesday and leave Wednesday open.
As fate would have it, the forecast was accurate and the wind kept us at Santa Cruz Island.
We looked around throughout the night and anchored on a good area of fish.
At first light, Tony hooked and landed a 30 lb. class yellowtail. After that, somebody hit the switch and we put 22 sea bass onboard. Things were a little hectic for a few, but what a way to start a trip.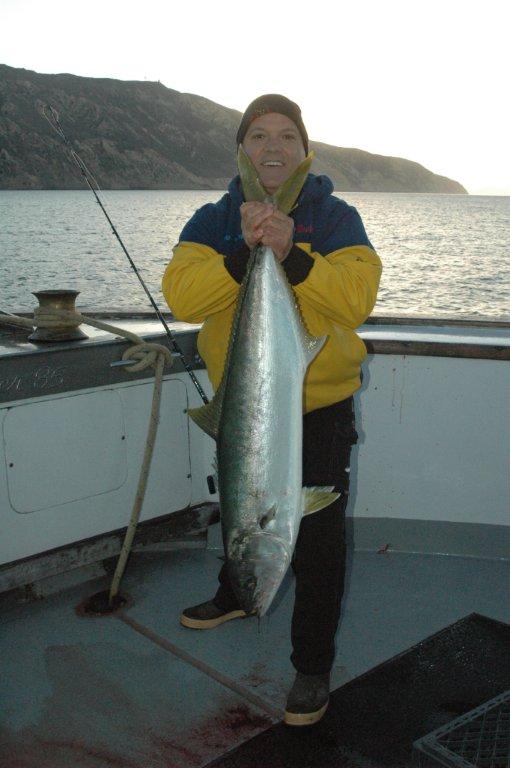 As soon as the bite tapered, we worked towards Santa Rosa where we wanted to target big Halibut.
The wind was a sustained 25 knots, so we decided to abandon the island and head back to the lee of Santa Cruz.
As we approached our morning area, we picked up another handful of sea bass and anchored for the evening. We figured gray light would bring yet another round.
Tuesday morning arrived with picture perfect conditions, but no bite.
Hard to say, as conditions parallel the day before, just no reaction. We scoured the area and once again, decided to head west.
The winds were still intense at Santa Rosa, so we continued our search at Santa Cruz.
Many miles of the island were covered as we looked in all the notorious haunts for the elusive gray ghost. Then, as if out of nowhere, we saw the signs.
Birds picking, the sonar lit up with targets and bait fish.
We anchored up and instantly began to pick away.
Our time was limited however, as the wind once again began to fill in and ultimately chased us down the island…though not before boating 21 good grade sea bass. We fished our way down the island and continued our efforts till dark.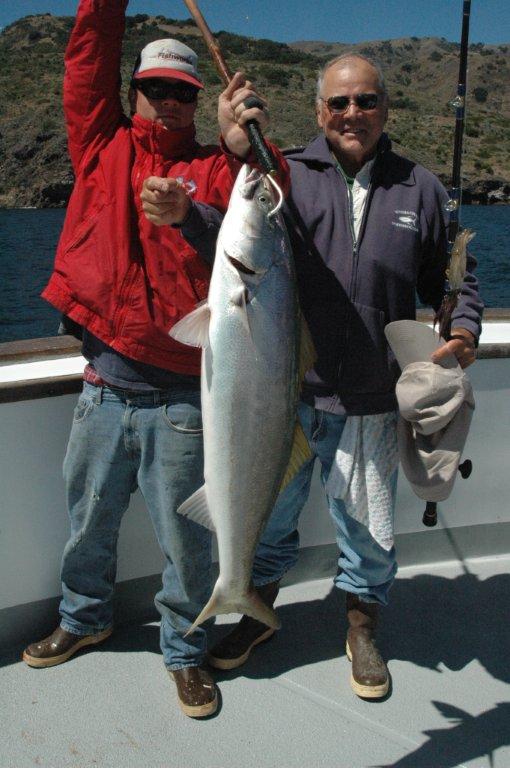 At dinner, we discussed our options for the final day.
The weather was due to come down, and we could either blast west and load up on rockfish and lings, or stay and try yet again for game fish, as was the focus of our trip.
All onboard agreed that with good weather forecast, maybe the fish we were on in the afternoon would perform great in the morning.
We anchored up in the shelter of Pedro Point and spent a most comfortable night once again in the protection of Santa Cruz Island. At 3 am, we pulled the anchor and headed out to get in position for gray light.
The weather had finally broke, and the ocean was once again calm.
As the sun came up, we all were ready with baits soaking…but no bite.
Conditions had changed and with no current, these fish were not going to bite.
We went back on the hunt, this time looking for conditions and fish.
We picked along the way.
Wednesday we managed another 12 sea bass to 55 lbs.
All in all, we had a great 3 days fishing what is some of the most scenic and productive waters offshore here in Southern California.
There were a few guys who have been fishing for a long time and landed their first sea bass.
Others topped their personal best with good grade fish landed on this trip.
Congrats go out to our jackpot winners:
Day 1 Tony Contino…41# Halibut
Day 2 John Gee…32# White Seabass
Day 3 Chris Griffin 55# White Seabass
Halibut, Sea bass and Yellowtail.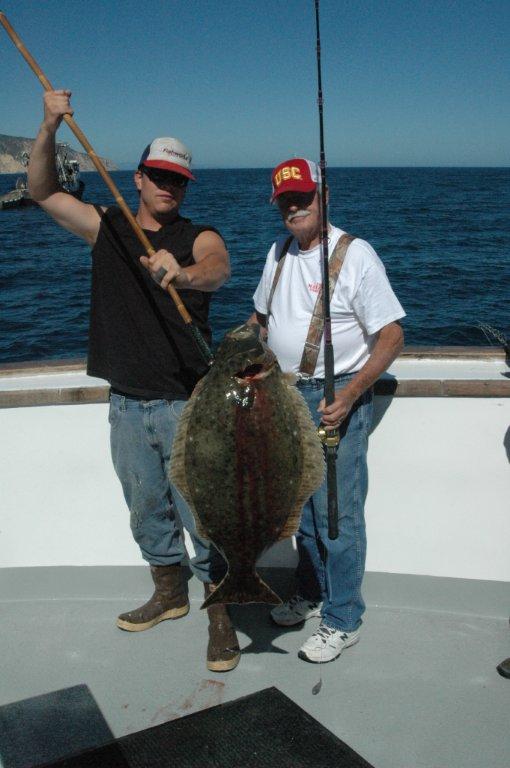 When fishing this area and taking in all the rugged raw beauty that we are just 50 short miles north of Los Angeles, yet worlds apart.

The sea bass are on the chew and ample squid is ripe for the taking.
We have scheduled several limited load 4am to 4pm trips onboard the Coral Sea (same great operation and crew) fishing in July.
We hope to see you onboard.
Capt. Frank