Whoppers of the Week:
1) Caden Giberti from Alhambra caught a 25lb Halibut on a full day trip aboard the Cobra.
2) Luis Hinojosa from Littlerock caught a 33lb White Seabass on a full day trip aboard the Cobra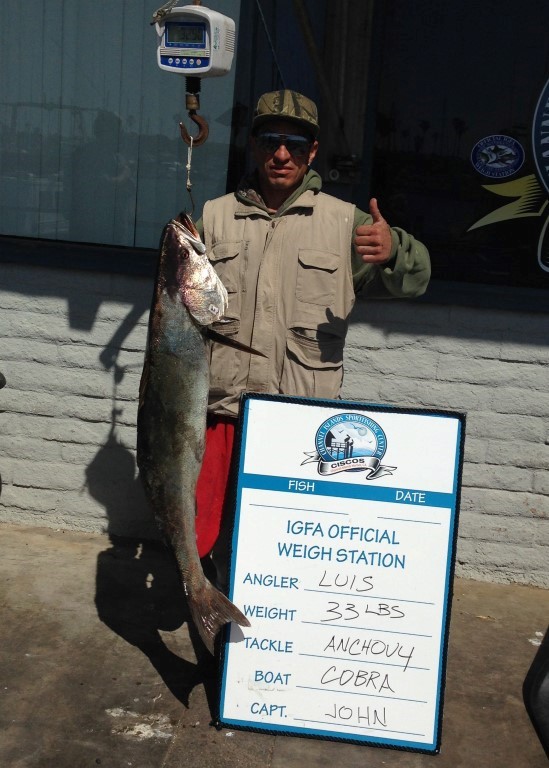 Fish Report:
Nobody in the Channel Islands area got to go fishing much this week because of a wind storm that started Monday and didn't relent until late Friday. Over the weekend the weather ended up being rather nice so we started our week on Saturday catching all bottom species you would expect from the Channel Islands. The bite was slow to start but picked up as the day progressed. By the days end most of the boats had good counts on the Rockfish consisting of mostly Red Snapper but a lot of Grouper were mixed in. There is still a lot of Red Crab in the water making the bite picky because the fish are stuffed with crab. Almost all the fish are puking up these little crustaceans as they are being caught and brought over the rail.
Sunday we had our first counts that included outer island reports. We had overnight and a two day trip report excellent Lingcod fishing to go along with limits of big Rockfish again consisting of mostly Reds. The local morning boats had great weather on Sunday and tried to catch some game fish. There are White Seabass and Halibut to be caught but they didn't want to cooperate this weekend. Only a couple were caught out of our entire fleet for the week.
Surface fishing is not happening right now as we had one boat do nothing but fish the kelp for Calico Bass but only a hand full were caught. Falling back on Rockfish saved the day for most and kept our anglers busy catching fish.
The weather has broken and will at least be good for the better part of this upcoming week. We are going to take full advantage and do our best to get back on track and put together some outstanding counts. Stay tuned for our report next week as its sure to be a much more productive!
Let's Go Fishing!
For our up to date current schedule or to book a trip, click here.
Call us at 805-382-1612 for information, including Live Bait info.