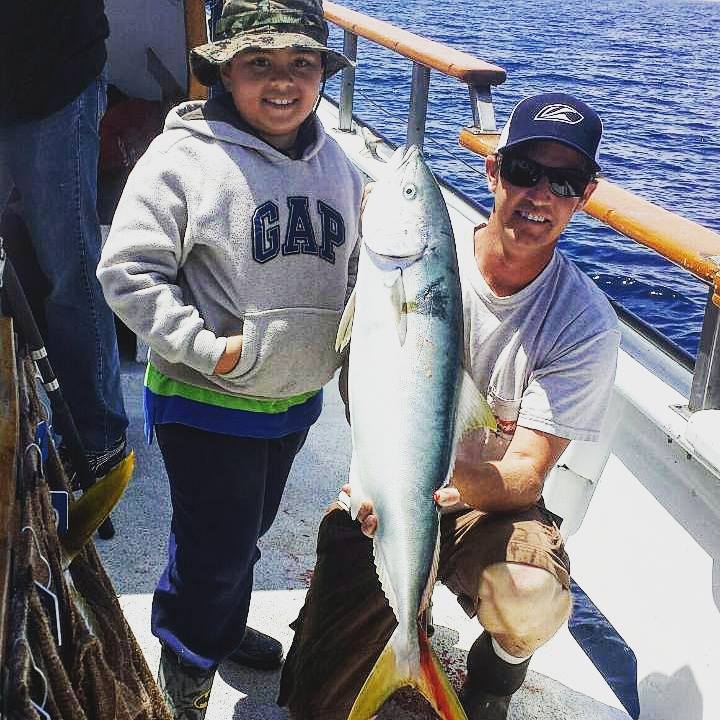 Whoppers of the Week:
1) Ray Lovo (on his birthday) from Oxnard caught a 17lb Yellowtail while on a 3/4 day trip aboard the Gentleman.
2) Anthony Comunale (age 9) from Northridge caught a 15lb Yellowtail while on a 3/4 day trip aboard the Erna B.
3) Vince Romero from Oxnard caught a 22lb Yellowtail while on a full day trip aboard the Aloha Spirit.
4) Paul Loveall from Newbury Park caught a 25lb Yellowtail while on a full day trip aboard the Sea Jay.

Channel Islands Sportfishing Report:
The story of the week is all about the Yellowtail at the local islands. Like captain Mike Riddell said on the Erna B, "if bonito weren't mixed in we would have straight limits of Yellows". These fish are anywhere between 5 to 12 pounds with a hand full of stand outs in the 25 to 30 pound range. The new influx of fish are obviously from offshore because they have not changed color yet. According to captain Shawn Steward of the Aloha Spirit, offshore Yellows have a blue coloring to their backs and island fish have a green colored back. "These fish just arrived said captain Shawn and they could stay here for the next several years". A good sign for the future if you like fishing Yellowtail at our islands.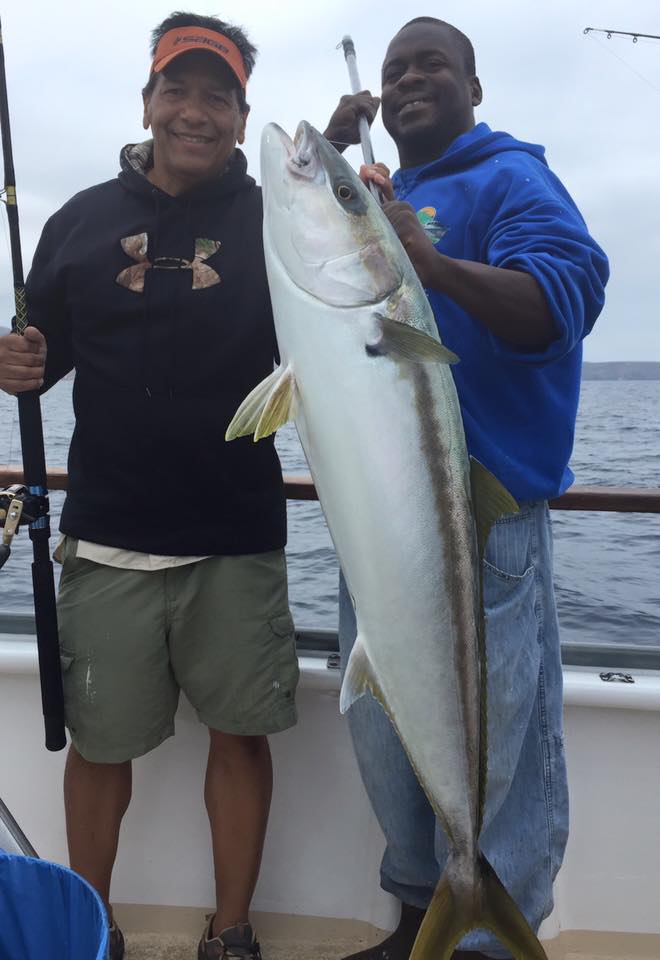 Our waters are very warm right now so we are not catching big numbers of Halibut and White Seabass like we have in previous years. We are still catching some Seabass from time to time around the full moon cycle however. The Sea Jay had a couple good scores this week on full day trips to Santa Cruz Island. One day they had 21 Seabass and a couple days later caught another 17 White Seabass. Keep in mind this boat only takes up to 11 anglers so these are good numbers!

Bass anglers are having a ball this year catching record numbers of Calico Bass. These hard fighting and great eating fish are biting both live bait and plastics lures. Normally a specie that takes a lot of finesse and skill to catch but this year they are much less picky. Probably because they're metabolizes are burning up and they need to eat so much more this year in the warm waters.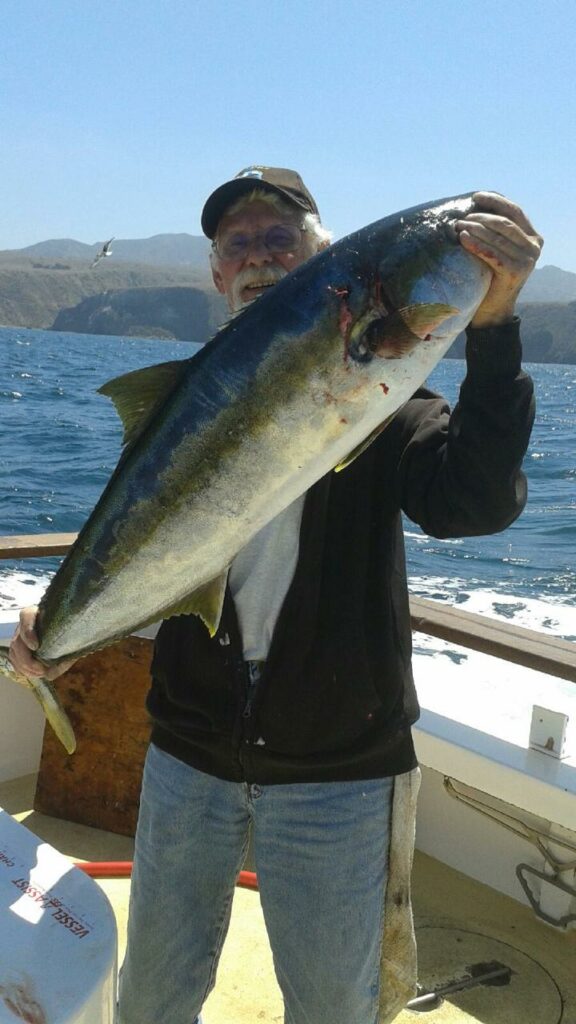 El Nino conditions will extend our summer bite so anglers can hopefully look forward to top water fishing well into the fall and even beginning of winter. Bottom fishing for Lingcod and Red Snapper is best on the overnight trips to the outer islands. These islands are holding a little cooler water, so if your looking to load up on Rockfish and other tasty bottom species it may be best to jump on an overnight right now. Tuna are still here within overnight range but the winds have kept our boats off the grounds for the better part of the week. Hopefully things will turn around so we can get offshore to catch the Tuna and Dorado that we know are just outside our islands. Local boats will probably continue fishing shallow for Bass, Yellowtail and other species located in and around the kelp.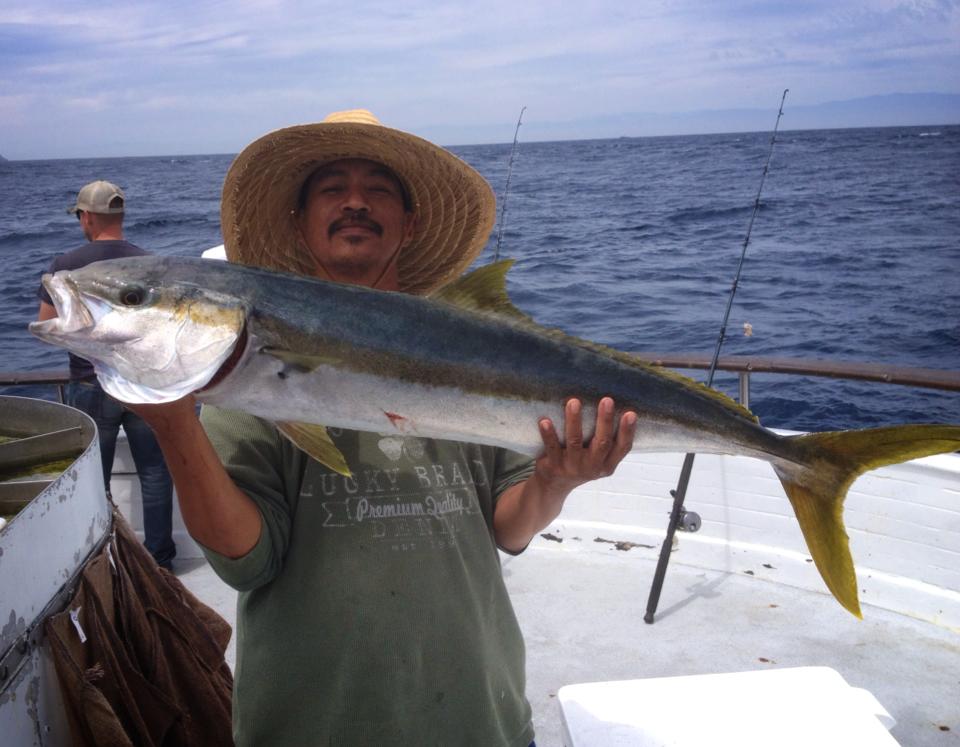 For current fish counts and history, click here.
If you need information, give us a call at 805-382-1612. If you want to just book a reservation, and don't need to speak to anyone, we have online booking for your convenience here.