March 9th, 2017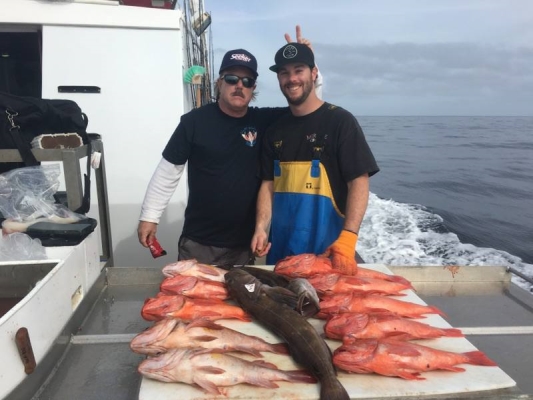 Fish Report for our "opening week" of fishing – week ending 03-05-17
Fish Report:
Here is the first fish report of the 2017 season. The first week of Southern California's saltwater fishing season is complete! The weather gods were on our side this year as all the boats were able to go fishing in good ocean conditions. In past years our "opener" was spoiled by high winds or some other weather condition that kept us at the dock.
This 2017 opening day was almost perfect weather and with everyone excited to go fishing for the first time in two months we did our best to make it a memorable day. Most of the boats fished the islands and as expected they targeted Rockfish and other bottom species like Lingcod, Sheephead and Whitefish. Here's a link to the fish counts that is updated frequently.
Fishing itself was also better than expected than it had been on other opening days in the past. Sometimes it takes a day or two for our captains to get in the "groove" and catch limits of Rockfish for opening day anglers.
Despite what many say, the fish are not hungrier because of a two month closure. In fact, we are pretty sure the fish had no idea the fishing was closed. This year fishing on the opening day was outstanding with all the boats catching their limits of Rockfish rather easily. By the time the weekend came and went, our captains and crews settled in to their routine, the weather finally reared its ugly head. On Sunday we had rain in the morning followed by high winds that cut the day short. Fortunately, fishing was so good that morning that most of the boats were already limited out on Rockfish before they had to return to the dock.
This was overall an outstanding "Rockfish Opener" in our eyes. It was not busy as far as foot traffic simply because opening overlaps with the Fred Hall Fishing Show in Long Beach. All the major fishing tackle and outdoor companies have a booth or at least attend this week long show. This of course includes our company, Channel Islands Sportfishing. It is a great opportunity for everyone to share information, release new products, book trips or get a great deal on fishing tackle of all sorts. The Fred Hall Show also gets our anglers "pumped" for the upcoming season, so by this time next week everyone is geared up and super excited.
Hopefully the weather continues to be kind to us and the fishing stays good. Expectations for the 2017 season are as high as any we can remember. Whether it be another "Yellowtail Year" or the great return of our White Seabass and Halibut, only time will tell. All we can do as a company in this industry, is make sure our customers have the best overall fishing experience possible. Stay tuned for another write up next week and hopefully we will have some tales to tell about that whopper that got away!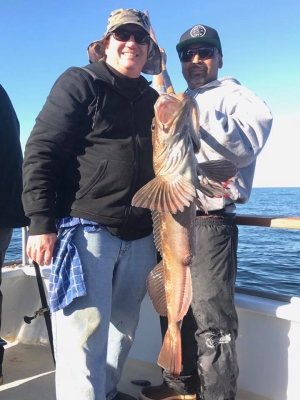 Whoppers of the Week
1) Ron Briggs from Ojai caught a pair of 15lb Lingcod on an overnight trip aboard the Pacific Islander.
2) Marc Gaskill from Ventura caught a 7lb Red Snapper on an overnight trip aboard the Mirage.
3) John Csorba from Ventura caught a 6lb Red Snapper on a full day trip aboard the Aloha Spirit.
4) Bob Oliver from Ojai caught a 8lb Red Snapper on a 3/4 day trip aboard the Gentleman.
For questions or general information, feel free to call us at 805-382-1612.
Let's Go Fishing!