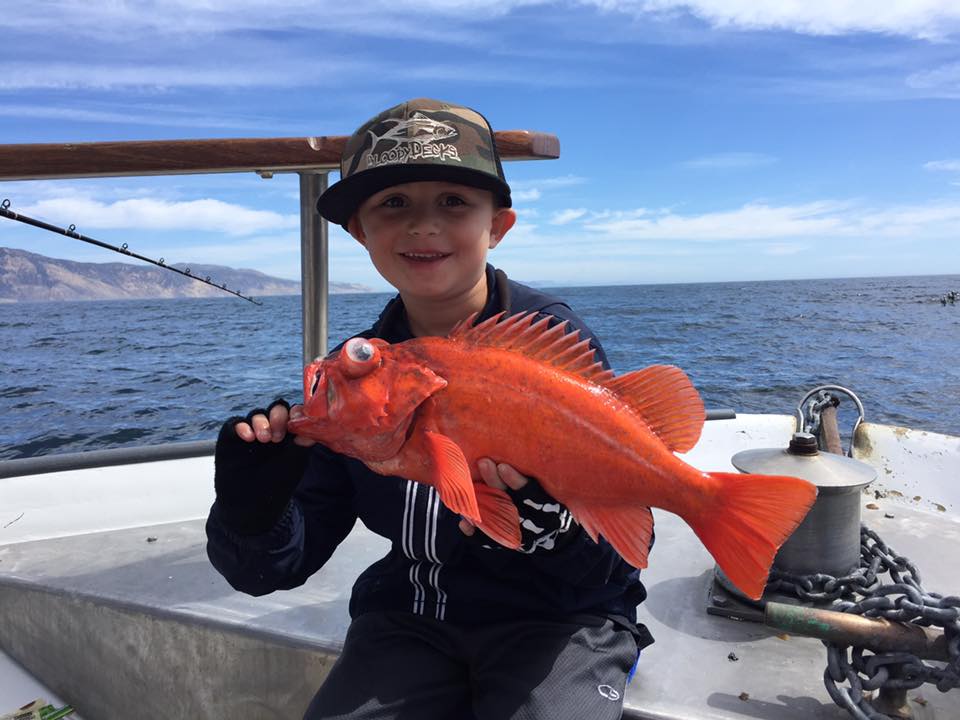 "Opening Day 2017 and Season Outlook"
The fishing season is about to start on March 1st, as it does every year for saltwater fisherman in the state of California from Point Conception down to San Diego. A two month closure during the months of January and February is an effort to protect one of our most precious fisheries during their spawning time. Vessel based bottom fishing for a variety of Rockfish species is prohibited by law during the winter months and has been a successful endeavor for many years now. The "Rockfish Opener" has always marked the beginning of the saltwater fishing season in California. Fishing in California is not necessarily closed completely but during the winter there is not much else to catch besides Rockfish, thus the reason saltwater anglers consider the season closed.
During these closed months everyone in the sportfishing industry is doing maintenance and upgrades in preparation for opening day. On opening day there will be thousands of fisherman ready to start what they hope will be the beginning of a long and exciting fishing season. Many of these fishermen are experienced and have been doing this healthy activity since they were children but almost equally as many will be going saltwater fishing for the first time. Whether it be a father takes his child or a husband sharing his passion for the ocean with his spouse, or as it is becoming more common these days, a woman taking a husband or boyfriend out fishing for the first time. After a two month closure, the fishing is sure to be great for bottom fish. This is perfect because those first time anglers need to catch something to keep them excited and bottom fishing hardly ever fails in the production category. The more experienced anglers will simply be happy to get on the ocean and wet a line no matter what they are fishing for. Two months of no fishing might as well be a lifetime to someone that calls themselves a fisherman.
As for the upcoming 2017 season, there is a lot of uncertainty as to what kind of fishing we will see. Over the past three years we have experienced El Nino conditions that brought warm waters and exotic fish to California's coastal regions. In our location, the Northern Channel Islands, we saw prolonged periods of warm water and an endless Yellowtail bite. On a normal year our waters reach 70 degrees for sometimes only a month but during the El Nino years we had sea temperatures well above 70 degrees and almost 80 degrees during the summer. Yellowtail are no stranger to Channel Islands anglers but the past few seasons, we were catching them from opening day to well into the fall. Normally we will have Yellowtail only during the middle of summer and sometimes a bonus bite in October or November. So the question is, will we have another warm water year or will things begin to normalize.
Most anglers and professionals in the fishing industry feel this 2017 saltwater season will be a "normal" one. If this is the case we will hopefully see the return of our Halibut and White Seabass bite that we would "normally" count on during the late spring and early summer months. Besides outstanding bottom fishing, the Channel Islands is known for its epic Halibut and Seabass fishing. It's what brings anglers from far and wide to this area in search of these prized fish. We may see less Yellowtail caught this year but more White Seabass.
Of course everything depends on food supply for these fish. Cooler water temperatures are preferred by Anchovy and Squid, and these are both a staple in the White Seabass diet. The cooler temps are also good for our kelp forests which provide habitat for fish.
Nothing is for certain and nobody really knows what to expect this year. All we can say for sure is that we will be ready to show our clients a good time and provide them with the best chance of catching fish on any given day. We hope everyone has a great fishing year whether you're targeting Salmon in the Bay Area, Tuna in San Diego or with us here at the Northern Channel Islands at Channel Islands Sportfishing Center, trying to catch Lingcod, Halibut and White Seabass. For any information or if you would like to book a trip, call us at 805-382-1612 or visit us online at www.CISCOS.com