Whoppers & Report for the week ending October 11, 2014

Wayne Miller from Ventura CA, caught a 25lb Yellowtail on the Aloha Spirit
Ray Basouer from Los Angeles CA, caught a 35lb Halibut on the Cobra
Zack Snable from Ventura CA, caught a 35lb Yellowtail on the Aloha Spirit
Jeff Katz from Oxnard CA, caught a 35lb Yellowtail on the Gentleman
Alfonzo Ruiz from Ventura CA, caught a 24lb Lingcod on the Pacific Islander

Report:
    Overall another excellent week of fishing the Northern Channel Islands and its coastal regions. The yellowtail bite took a day off early in the week and has been slow to surge back. By the end of the week anglers battled conditions on the fishing grounds plus fish that have been battered for several weeks now. With that said though, there were some nice catches with fish in the 30lb class coming up regularly. Early morning boats still dominating the yellowtail catches with the  Gentleman 3/4 day taking stabs at glory with success.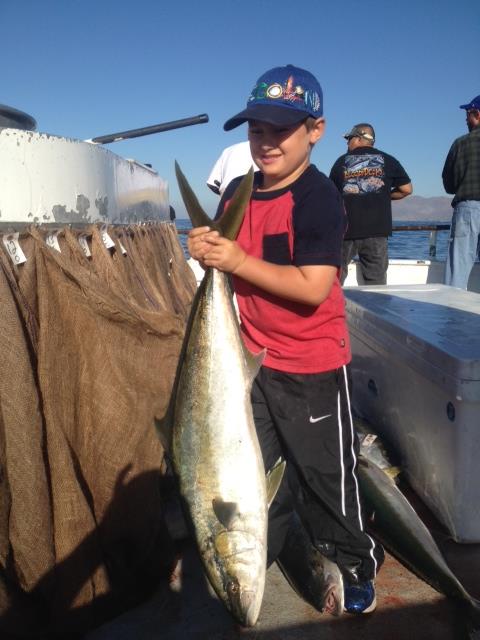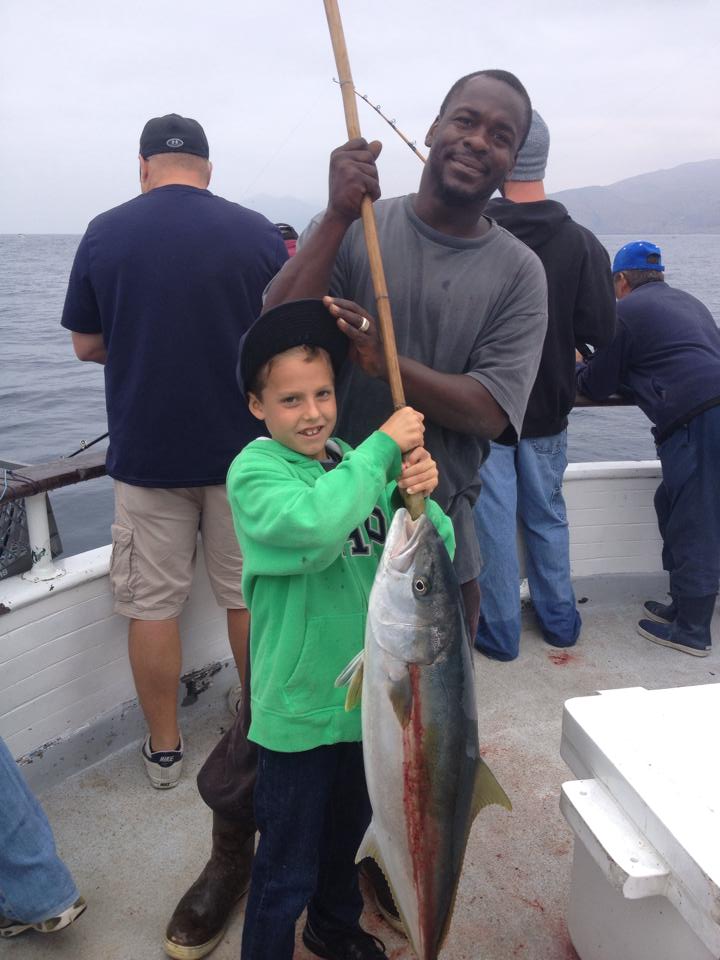 During the down time of fishing for big game, anglers are enjoying a rather good bite for calico bass in the kelp along the coast and local islands. Bottom fishing locally has been stable but virtually untouched with everyone with big game on the mind. Always a good backup plan if need be!
    Outer island boats have been venturing to San Nicolas and Santa Barbara islands, also in search of yellowtail. A couple trips had a few fish early in the mornings, but overall the catches on the overnight boats have consisted of big reds, sheephead, whitefish and limits of lingcod. Several nice lings have been caught on recent trips like the one last Monday on the Pacific Islander where they caught limits of lingcod with jackpot fish weighing in at 24.7lbs. Late in the week the overnight boats have been fishing Santa Rosa Island simply because of condition changes and a need for new ground to be covered. We have regular trips departing daily on both the  Mirage and  Pacific Islander going to the outer islands. Occupationally we also have the Sea Biscuit online running open trips. This upcoming week we welcome back the  Coral Sea to our fleet and they will be put on the overnight and full day schedule immediately.
The upcoming week should be another good one with bait supplies plentiful and lots of fish still moving into this area. We have open boats departing daily targeting yellowtail and shallow bottom fish.
(Nice Yellowtail caught on the Erna B this week)
Plenty of open spots during the week days, so a good time to get on a boat, Call 805-382-1612 or book online anytime!